Former Judge Alvin Zimmerman speaks to students
Psychology alum visits students 50 years after enrolling at UH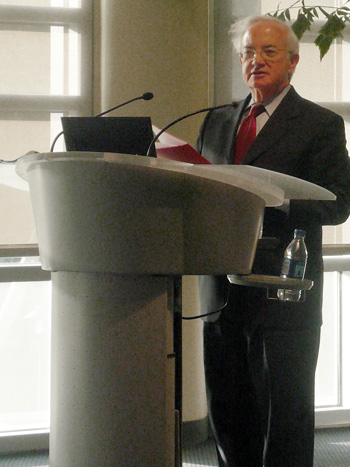 Judge Alvin Zimmerman and Mrs. Susie Zimmerman visited the campus to give a lecture at the Elizabeth D. Rockwell Pavilion of the MD Anderson UH Library. This occasion marked 50 years after Judge Zimmerman came to UH as an undergraduate student (B.S. Psychology '64). The Psychology Department and Psi Chi International Honor Society in Psychology invited the Judge for the event in collaboration with the Phi Alpha Delta Pre-Law and Pi Sigma Alpha, the National Honor Society in Political Science. Zimmerman's enthusiasm in meeting the young aspiring students was very encouraging for the undergraduates. Judge Zimmerman spoke about three of his Psychology professors, Drs. James McCary, Bliss Red and Richard Evans, and their influence on aspects of his career. His description of interesting cases and sense of humor enlivened the talk. Judge Zimmerman also gave illustrations of career paths in the legal field to those with a psychology degree and advised students to be ready for new opportunities. Students heard how family law and forensic psychology come together in the courtroom, and had ample opportunity to ask Judge Zimmerman questions. The lecture opened students' minds to new possibilities in their future careers.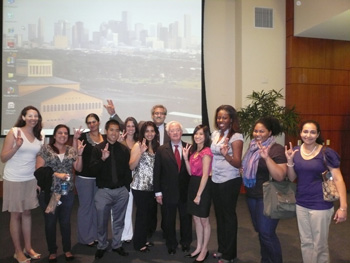 Currently Chairman of the Board of the law firm, Zimmerman, Axelrad, Meyer, Stern & Wise, P.C., Judge Zimmerman's legal experience has included presiding as a state district judge of the 269th Civil District Court, the 309th Family District Court, and as a judge in the Municipal Court of the City of Houston and as Assistant Attorney General for the State of Texas.
—Lolin Wang-Bennett, Ph.D.