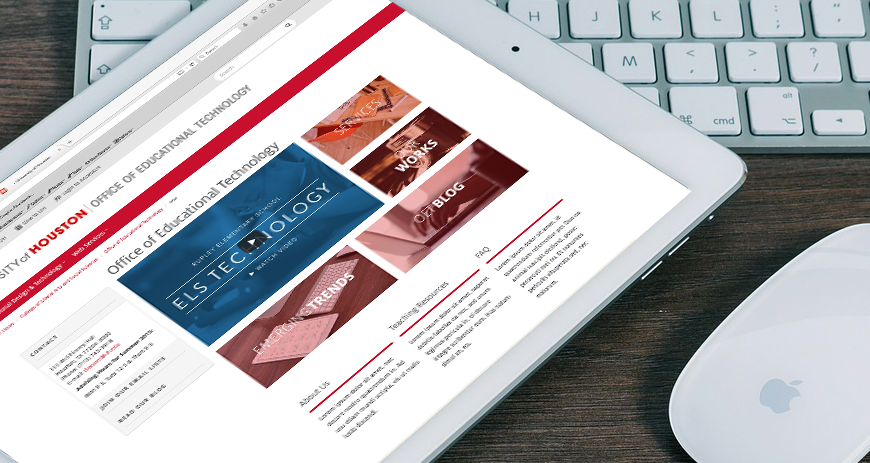 Web Development/Design
One of the most effective marketing tools is a website. A website can help you tell your audience who you are, what you do, and where are you going.  It will become the primary vehicle of communication with your students, faculty, and the community.
The Office of Educational Technology (OET) can help you with your website design. Our team of top-notch professional web developers is here to assist you in updating your current website or develop a new site for your department, program, or course.
Currently our departmental websites are hosted via the University of Houston's content management system (CMS).  We follow the University of Houston's brand strategy, but we still stride for making your site representative of your department. For any other projects (e.g. course/event websites) we can recommend alternative strategies and resources to meet your needs.
Recommended guidelines for departmental websites
We recommend at most 6 items + Giving on your main navigation menu. Sub-navigation items can have more than 7 items but we do not recommend going beyond a 4th level deep.
Most of the sites developed on the CMS include a slideshow that can be tailored to your needs, but we strongly recommend you plan well for this space. You can use it to highlight important parts of your website or for events that you will provide an accompanying story. For smaller event/announcements we can provide a designated space on your homepage (spiffs). We will talk more in depth at the initial meeting.
Graphic Design/ Print design
You cannot have effective website/flyer/brochure or any other print/digital media without a visually engaging graphic concept and execution.
Our team members will meet with you so you can provide us with a concept of what you envision the look of your project or what you would like it to convey.  We will work on achieving your vision while making sure that your project will meet the University branding strategy.
Contact us via email to set up an appointment.  If you have a previous version of a project and would like to have an update on it, please send us the electronic file via email or share it with us online before the meeting.