African Historian Awarded Prestigious Fellowship at Rice University
Kairn Klieman will use fellowship to work on book about the history of oil production in West Africa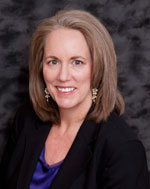 Kairn Klieman, Associate Professor of African History at the University of Houston, has been awarded an External Faculty Fellowship from the Humanities Research Center at Rice University. She will spend the Fall 2011 semester in residence at the Center and teach a course affiliated with a humanities department at Rice. She will also use the time to work on her book Before the "Curse:" Petroleum, Politics, and Transnational Oil Companies in the Gulf of Guinea, Africa, 1890s-1980s.
The Gulf of Guinea is part of the Atlantic Ocean west of Africa. It is in this gulf that the Equator and Prime Meridian – zero degrees latitude and longitude – intersect. The gulf is rimmed by several nations including Ghana, Nigeria and Cameroon.
"As the first work to chronicle the history of oil in sub-Saharan Africa, the book will provide important contributions to the fields of African history, as well as the growing body of literature on the "Oil Curse" or resource abundance in developing nations," Klieman says.
Klieman was selected from more than 100 applicants from international and U.S. institutions to be one of four "eminent scholars from around the world" brought to Rice's campus to expose its faculty and students to forward-thinking research in the humanities.
Through her research on the history of the oil industry in Africa, Dr. Klieman's presence at the Humanities Research Center will foster interdisciplinary dialogue between faculty and students in History, Anthropology, and the Baker Institute.
Dr. Klieman was trained as a specialist in the pre-colonial history of central Africa and the use of comparative historical linguistics for the reconstruction of African history. She earned her Ph.D. from the University of California, Los Angeles.
She served as a Peace Corps volunteer in the Democratic Republic of Congo for two years, where she developed and honed her teaching techniques as an English-as-a-Second-Language instructor. In 2007, UH honored Klieman with a Teaching Excellence Award.
A hallmark of her instruction style is to "directly confront the roots and causes of negative stereotypes" about Africa and challenge her students to "question deeply rooted cultural biases, distorted media representations and even political/economic policies designed to aid the poor."
Last semester, Klieman and art curator Kristina Van Dyke co-taught a graduate public history course that gauged the effects of the slave trade on the visual arts of Nigeria and Cameroon. In addition to challenging their assumptions about African art, the course allowed UH students to learn about the inner-workings of a museum and access rare research materials. Half of the class was taught on the UH campus and the other half at the Menil Collection, where Van Dyke is associate curator for collections and research.
Klieman is also the recipient of a 2009 Gerald R. Ford Presidential Foundation Research Grant .