Stephan Hillerbrand, Art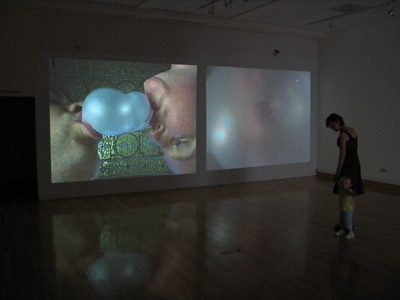 The Ross M. Lence Award in Performing and Visual Arts goes to Stephan Hillerbrand, Assist Prof of Photography and Digital Media in the School of Art. Professor Hillerbrand is a remarkably accomplished artist who has exhibited here and around the world. "We live in the most exciting times to be holding a camera," he says, because the world of photography is in the midst of a huge transformation.
By mentoring, providing structure and allowing students to learn by doing, Hillerbrand transforms students' excitement about photography into accomplishment. He assigns truly unconventional exercises and projects that encourage student creativity, problem-solving and critical thinking. A favorite is an exercise he calls "Mr. and Mrs. Potato Head" – students assemble an image of a face by combining images of other people's eyes, noses, ears, etc.
In addition to inspiring students in the classroom, Professor Hillerbrand pushes his students out into the local art world. As the Director for the Houston Center for Photography (HCP) put it, Hillerbrand serves as a bridge between his students and the local photography and digital media community. For example, he curated an exhibit of his students' work at Houston's Foto Fest, then invited the HCP director to visit that exhibit and discuss the students' work. Some of those students then went on to intern or exhibit their work at the center.
Hillerbrand's students have also worked with the Aurora Picture Show, a local arts organization. He has also curated student work for an exhibition at Houston's City Hall. Engaging his students in the art world outside the University of Houston provides invaluable experience, exposure, and professional contacts to students who graduate launched in their careers. Students describe Hillerbrand as their "most inspirational, creative and supportive professor" and his class as "brilliant" Asked if they would recommend him to other students, they all agreed with the student who wrote: "Yes, he's awesome, full of life, and he gives us candy!"
Congratulations, Professor Hillerbrand.
- Dr. Sarah Fishman, Associate Dean of Undergraduate Studies.