Sociology professor elected to lead global research committee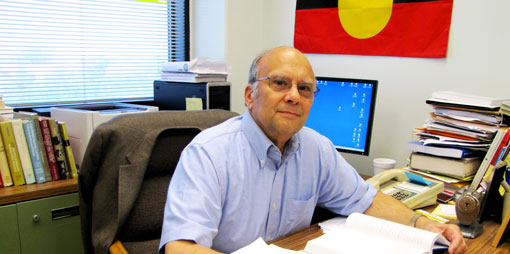 UH Sociology Professor Anthony Gary Dworkin
UH Professor of Sociology Gary Dworkin was elected president of the Sociology of Education Research Committee of the International Sociological Association on July 17 at the 17th World Congress of Sociology held in Gothenburg, Sweden.
Dworkin's term as the committee's ninth president will run from 2010 to 2014. The International Sociological Association is chartered by the United Nations and has members from 167 nations around the world.
For the past 37 years, Dworkin has taught sociology at the University of Houston and his research has focused on education and how its reform affects the global community.
"One argument that has held currency over the past 30 years is that the competitiveness of a nation often depends upon the quality of education that is provided to its young," Dworkin said. "In a globalizing world employers can select from diverse labor markets in which nations and their populations are ranked in terms of their competitiveness. Countries with well-educated populations thrive, while those that are less well educated stagnate."
"Ultimately, however, the assessment of nations is often reduced to a single test score," Dworkin said. "Countries revamp their educational systems to resemble those of nations that do well on an international test. Likewise, developing nations are often forced to change their educational systems to resemble those of the First World. While this could potentially make the developing countries more competitive, there are significant costs, including the loss of indigenous cultures and values as the curriculum begins to be focused exclusively on international tests, including those created by the OECD (Organization for International Co-operation and Development)."
It's a common complaint in local schools, too, that educators are focused more on the material covered in state and federally-mandated testing than skills and knowledge that benefit students outside of the classroom.
"Teaching to the test is not necessarily bad, especially if the test measures a body of information and concepts that children are expected to know and that facilitates their access to higher education and meaningful employment. But often tests are narrowly constructed and teaching to them further abridges learning," Dworkin said.
This fall, Dworkin will teach Introduction to Sociological Theory (SOC 3300) an undergraduate course that is required for all sociology majors as well as Race and Ethnicity in World Perspective (SOC 3328) an intermediate level sociology course focusing on comparing the experiences of diverse nations. In other semesters Dworkin offers graduate and undergraduate courses in the sociology of education.
"UH is a diverse university which is strengthened by the broad diversity of students' intellectual interests," Dworkin said. "I've been on — for a number of years — the committee to try and get a Phi Beta Kappa chapter. In my own department, some of our best (students) have gone on for doctorates at the top universities in the country and some of those have also become eminent scholars in sociology over the years."
As the new president of the ISA's Sociology of Education Research Committee, Dworkin said he will be expected to deliver keynote addresses at each of the mid-term conferences. He said he'll focus on such topics as the unintended consequences of educational accountability on developed and developing nations and the increasing drain of teachers away from nations in the Global South.
Dworkin will also serve on the editorial boards of the ISA journals Current Sociology and Sociopedia. He previously served as secretary, treasurer and newsletter editor for the Sociology of Education Research Committee.
"What took me by surprise was four years ago when they said, 'We'd like you to be secretary,' and I said, 'Fine,' not knowing exactly what I was getting into. Then they said, 'Oh, by the way, now that you've been elected, you're also treasurer and editor of the newsletter.' We produce a couple of newsletters a year and I am expected to be in frequent contact with colleagues from around the world. But, generally, the research committee secretary winds up becoming president, so I knew it was coming."
In addition to his role as an instructor and a leader of an international research committee, Dworkin leads the Sociology of Education Research Group (SERG) at UH, which works with the Texas Education Agency and local school districts to research and assess student success.
"We essentially operate as an out-sourced research department for school districts that can't otherwise afford the research," Dworkin said. "We look at TAKS scores and assess the effects of teacher, parent, and student attitudes about schooling on those test results, we create value-added models."
Dworkin can be reached at gdworkin@mail.uh.edu.
—Brandon Moeller