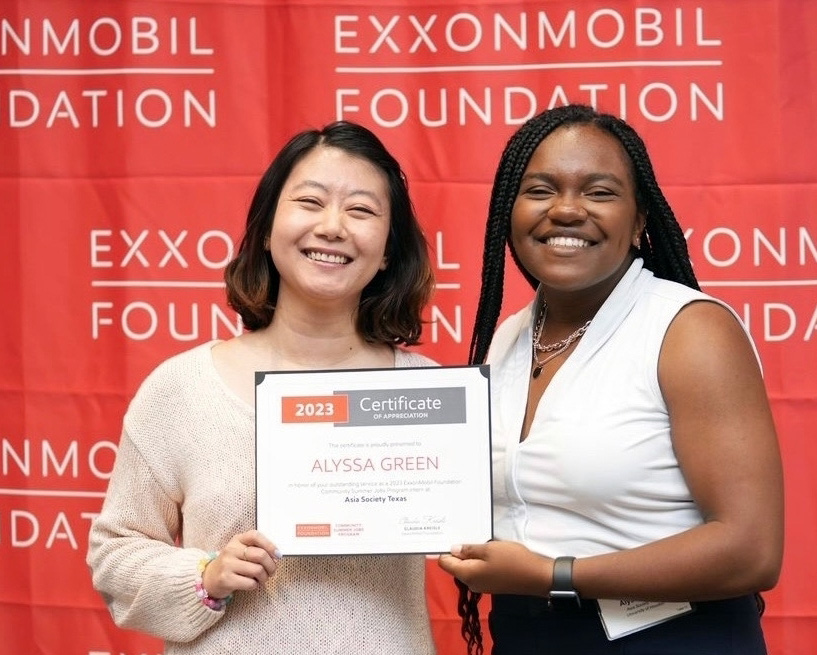 The University of Houston World Cultures and Literatures program is ever-expanding. Hailed for providing students unique opportunities to explore global culture and art, WCL organized four summer internship opportunities at leading cultural institutions, offering undergraduate students the chance to make a meaningful impact on the art and cultural scene.
"I loved meeting new people in different facets of the internship and participating in unique events that would not have otherwise been available," said Tatiana Haddad ('23), who graduated with a dual degree in anthropology and world cultures and literatures. "The internship has truly been one of the most important, most impactful, things that I did throughout my undergraduate education."
Haddad focused on Middle Eastern studies and will continue to the American University of Beirut in Lebanon to complete a master's in anthropology, ultimately working towards a doctorate in Middle Eastern studies or anthropology at a university in the U.S.
"This internship enabled me to connect with the Arab American community in Houston in a way that I never could have even imagined," Haddad said. "The number of people that I now know, Arab traditions I have learned about and cultures that I encountered make me feel more strongly connected to my heritage than ever before."
To be qualified, applicants to the WCL internship program had to be enrolled in a WCL class while completing their internship, maintain a 2.0 average and write a brief essay detailing how it related to their future academic and professional goals.
The interns participated in hands-on experiential learning activities to gain insight into diverse perspectives at locations such as the Museum of Fine Arts and Arab American Educational Foundation. Their projects ranged from the development of interfaith curatorial material, programming for art installations, in-depth research and developing lesson plans for K-12 education.
"By giving our students the opportunity to traverse a truly global range of humanities education, I think we're also setting them up to be very powerful players in the civic cultural scenes and, potentially, if it clicks for them, having careers where they themselves are shaping institutions, like the MFA or Asia Society," said Mohan Ambikaipaker, associate professor. "We want our students to take this education and go on and play at that level."
In addition to Haddad, Alivia Mayfield, Belén Fajardo and Andrea Salamanca were each selected for exemplary skills in WCL coursework and a curiosity for the arts and literature.
"I have always desired to work in an environment where Asian culture, specifically Chinese, was prevalent, and that is exactly what Asia Society is all about," Fajardo said.
Studying to become a professional interpreter/translator, Fajardo was assigned to work on the Education Project at the Asia Society, reviewing webcomics and designing lesson plans.
"With the help and guidance of the education and outreach team, I was able to get a sense of what Asia Society stood for once I started my internship. I could see how important it was for them to promote Asian culture and identity in schools."
The Asia Society Texas Center also selected Alyssa Green, a senior liberal studies major and Honors Phronêsis minor, for an internship by the ExxonMobil Foundation Community Summer Jobs Program, offering her the opportunity to develop and assist with culture camps and the Young Leaders Institute.
Each have now concluded their internships successfully, gaining essential skills in areas such as networking, event planning, fund raising and community outreach. They also made an impact through substantial projects in the arts and cultural scene of Houston.
"I desire to eventually work in a museum one day, and they gave me free training," Mayfield said. "I got to go into the archives and into the conservation studio. That was amazing because my interest is in antiquities and artifacts. Being able to see those things, especially when we did the filming of the Mazur, talking to actors, watching as directors were flipping through their book and being invited to actively participate in meetings with curators was outstanding. They wanted to know my thoughts and ideas."
The WCL conveys modernity, globalization and transnationalism. The connections, networking skills and communication abilities fashioned by an internship opportunity are priceless, forever reflected in skills gained from participating cultures, resources and events.