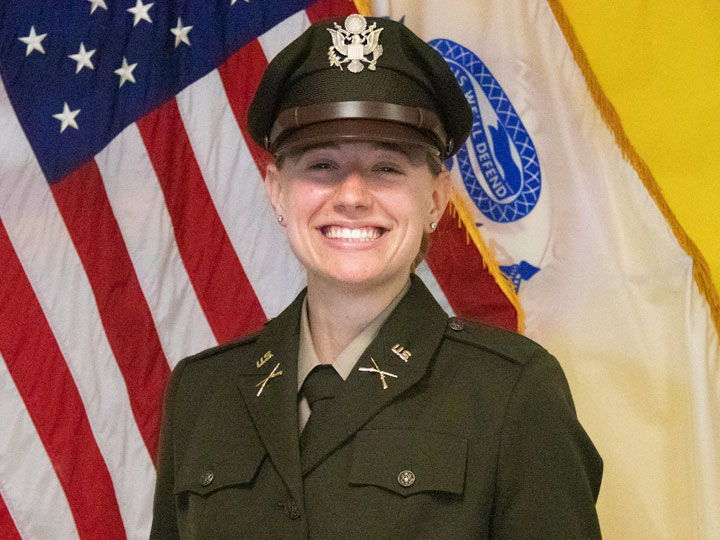 The University of Houston College of Liberal Arts and Social Sciences (CLASS) is pleased to congratulate Katelyn Kubosh, an ROTC cadet who has made history by becoming UH's first female cadet to join the U.S. Army Infantry at the rank of lieutenant. Following her recent graduation from the Conrad N. Hilton College with a degree in hospitality management, Lieutenant Kubosh was competitively selected to serve in this combat specialty.
Since the establishment of the University of Houston Army ROTC in 1948, Lieutenant Kubosh has become the first woman in school history to branch Infantry after the Department of Defense lifted all gender-based restrictions on military service in January 2015.
"I congratulate Lieutenant Kubosh on making this great stride in her young career so soon after graduation," said Daniel P. O'Connor, interim dean of CLASS. "The academic excellence she displayed as a member of the Military Science Program has helped her to break barriers, and I trust that her determined spirit will drive her toward further accolades as a member of the United States Military."
Lieutenant Kubosh distinguished herself in the UH Army ROTC program, serving as its cadet battalion commander and graduating in the top ten percent of Army ROTC cadets nationwide. She was the only 4.0 graduate among the Hilton College Class of 2021 and served as the college's banner bearer in last month's commencement.
"We are proud of Lieutenant Kubosh," said Lieutenant Colonel Jimmy Ta, professor and chair of the UH Military Science Program. "During her time with us, she has been an outstanding team player and servant leader. She embodies the qualities we seek in every Army officer."
When asked what she thought about her new military occupational specialty, Kubosh said, "I have to admit, I can't imagine wearing anything but the Infantry insignia."