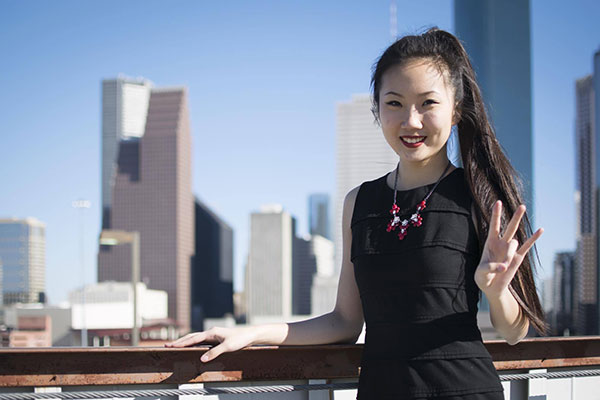 As the child of immigrants from China, Winni Zhang is a first generation college student. Her parents sacrificed a lot to come to the U.S. so that she could have the opportunities America had to offer. In return, they expected her to earn high grades – they felt her grades were a reflection of the future she would have.
 "I struggled with grades in high school - no matter how hard I tried, I was never able to obtain the grades I desired. My grades caused a lot of fights with my parents," says Zhang.
As a high school student, Zhang participated in debate and also developed a passion for law. So when it came time to apply to college, Zhang knew exactly what she wanted to major in – political science. Since she grew up in the Houston area, and graduated from Dawson High School in Pearland, UH felt like a natural choice for her.
"It wasn't until after my freshmen year in college that I realized the 'natural' decision I made turned out to be one of the best decisions I have ever made," says Zhang. "This school is truly unique, and it takes being here to understand that."
When Zhang stepped foot on the UH campus, she had one goal in mind: to earn good grades. She knew that college was a blank slate for her. She joined the UH debate team, but she made sure to prioritize her coursework and take advantage of every extra credit opportunity that she could.
"After my freshmen year of college was over, I stared at my grades and realized I was making the grades I desired. It was a moment of pride and it was so refreshing. It also strengthened the relationship between my parents and me," she says.
However, Zhang quickly realized that good grades weren't enough for her.
"Following my first semester in college, I realized I wasn't involved in anything else on campus. I became the student who went to class and then back to my apartment," she says. The UH debate team's competition schedule was fairly sparse so it didn't take much time away from her studies.
Over the winter break of her freshman year, Zhang found herself reorganizing her priorities and goals. She wanted more from her college experience than the good grades, she wanted to get involved with UH and help the university grow.
"I immediately became a CLASS senator for the 52nd administration of the Student Government Association, which helped me be a part of the process to get involved with CLASS COOGS, CLASS's ambassador program," she says. "Suddenly, my schedule was packed and filled with purpose day in and day out, but not one second of it felt like work."
Currently, as a sophomore, Zhang serves as the Deputy Chief of Staff for the SGA, the Vice President for CLASS COOGS, and as Chair of the Facilities Use and Policy Committee under the Student Center Policy Board.
 "UH has given me the opportunity to learn, to grow, and to serve. I found who I am here, and I found who I want to be as well. For that, I will be eternally grateful." says Zhang.
In the future, Zhang plans to attend law school to become an international corporate lawyer and perhaps even go into politics – putting all her debate training, in addition to her experience as part of UH's student government, to use during her professional career.
"Depending on the level of success in life, I would love to be able to dedicate a chunk of time in my life to be an international humanitarian lawyer, focusing specifically on women's rights in developing countries. Somewhere in between all of that is the possibility of running for a position in politics, either at the state or national level," she says.
- Monica Byars