Athletic training master degree program prepares students for growing industry
Inaugural class begins course work in Summer 2014 in Department of Health and Human Performance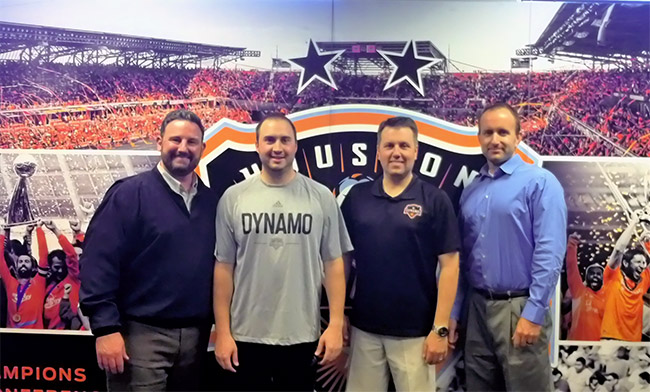 Dr. Josh Yellen and Dr. Mark Knoblauch visited Athletic Trainers at the Houston Dynamo.
Athletic trainers aren't just for athletics departments anymore. One of the fastest-growing professions, athletic trainers are becoming familiar faces in companies and corporations, as health and wellness become more of a priority.
On June 2, the Department of Health and Human Performance welcomed its first class of students – 15 in total – in its new Master of Athletic Training program.
"Most of the athletic training programs in the country are for undergraduates," said Josh Yellen, clinical assistant professor and director of the program. "We are starting to see a trend for universities to offer entry-level master's degrees in this field, and UH is leading the pack in offering the first master's degree in athletic training in Houston."
An athletic trainer is a healthcare professional who collaborates with physicians. Athletic trainers provide prevention and emergency care, clinical diagnoses, therapeutic interventions and rehabilitation plans. No longer limited to college and high school positions, athletic trainers are in corporate roles offering fitness services, as well as health education and outreach.
"The opportunities for our students are many simply because of where we're located," said Mark Knoblauch, clinical assistant professor and clinical education coordinator of the program. "We have a master's program, at a Tier One university, in the fourth-largest city in the country, where both NASA and the Texas Medical Center are located."
The program will include studies in prevention and health promotion, clinical examination and diagnosis, acute care of injury and illness, as well as therapeutic interventions, healthcare administration and professional development. Students will complete up to 1,400 hours of clinical rotations with partner agencies that include, Memorial Hermann Medical Group, Memorial Hermann Sports Medicine and Rehabilitation and the Ironman Sports Medicine Sports Institute.
Athletic trainer positions are growing in demand. A recent study from the National Athletic Trainers Association found athletic trainers had a positive impact on companies' and corporations' healthcare costs. Of the companies responding, some indicated that for every dollar invested in athletic trainers the return was up to seven dollars.
"Disney hires full-time athletic trainers. Every branch of the military has athletic trainers. NASA hires athletic trainers, as do dance companies and law enforcement agencies. It's a huge market in industry," Dr. Yellen said. "In today's healthcare model the emphasis is on prevention, and we're the only medical profession that focuses on that aspect of health."
Dr. Yellen adds that with a master's degree in athletic training, students are on track to complete a national certification in the field.
"They will be very competitive," he said. "Our goal is to change the face of athletic training."
Click here for more information on the UH Master's in Athletic Training.
- By Marisa Ramirez