CLASS Professor Selected for NAED/Spencer Fellowship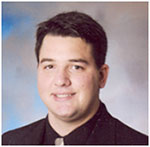 Assistant Professor of Economics Scott Imberman was recently named a 2010-2011 National Academy of Education/Spencer Postdoctoral Fellow.
The fellowship award of $55,000 will help to cover salary and research expenses for the fellowship period. Imberman was awarded the fellowship for research investigating how English speaking students are affected by sharing classrooms with students who have limited English proficiency. He was one of 20 fellows selected from a competitive pool of nearly 200 applicants.
Read the full article by Melissa Carroll on the UH website.