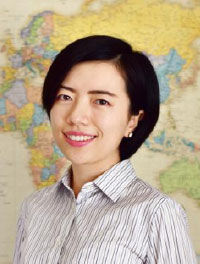 Wei Wang
Assistant Professor
6049 Agnes Arnold Hall
Phone: (713) 743-3070
Email: wwang58@central.uh.edu
Personal website
---
Bio
Dr. Wei Wang's research examines language as used in everyday conversation, its structures, sound patterns, and the collaboration of multiple resources in accomplishing social actions. Drawing on the methodologies of conversation analysis and interactional linguistics, she focuses particularly on the intersection of grammar, prosody, and social interaction. Informed by this line of work, she also investigates Chinese language pedagogy, especially the learning and teaching of discourse markers and related discourse phenomena. She strives to transform her research findings so as to provide optimal instructional strategies and teaching materials to enhance the pragmatic development of Chinese L2 learners.
Before joining the University of Houston, Dr. Wang taught linguistics and all levels of Chinese language courses at the Georgia Institute of Technology, UCLA, and Middlebury College.
Education
Ph.D. in Chinese Linguistics, UCLA
M.Phil. in Linguistics, Hong Kong University of Science and Technology
B.A. in Chinese Language and Literature, Peking University, China
Selected publications
Wang, Wei, & Hongyin, Tao. 2019. "From matrix clause to turn expansion The emergence of wo juede 'I feel/think' in Mandarin conversational interaction." In Maschler et al. (eds.), Emergent Syntax for Conversation: Clausal Patterns and the Organization of Action. John Benjamins Publishing Company.
Wang, Wei. 2018. "Discourse uses and prosodic properties of ranhou in spontaneous Mandarin conversation." Chinese Language and Discourse 9 (1): 1-25.
Wang, Wei. 2017. "From a conditional marker to a discourse marker: The use of dehua 的话 in natural Mandarin conversation." Journal of Pragmatics 117: 119–138.
Wang, Wei. 2016. "Prosody and discourse functions of ranhou 然后: With implications for teaching Mandarin conjunctions at the discourse level." In H. Tao (ed.), Integrating Chinese Linguistic Research and Language Teaching and Learning, 145-167. Amsterdam & Philadelphia: John Benjamins Publishing Company.
Wang, Wei. 2015. "The semantic map of the spatial domain and related functions." Language and Linguistics 16 (3): 465-500.