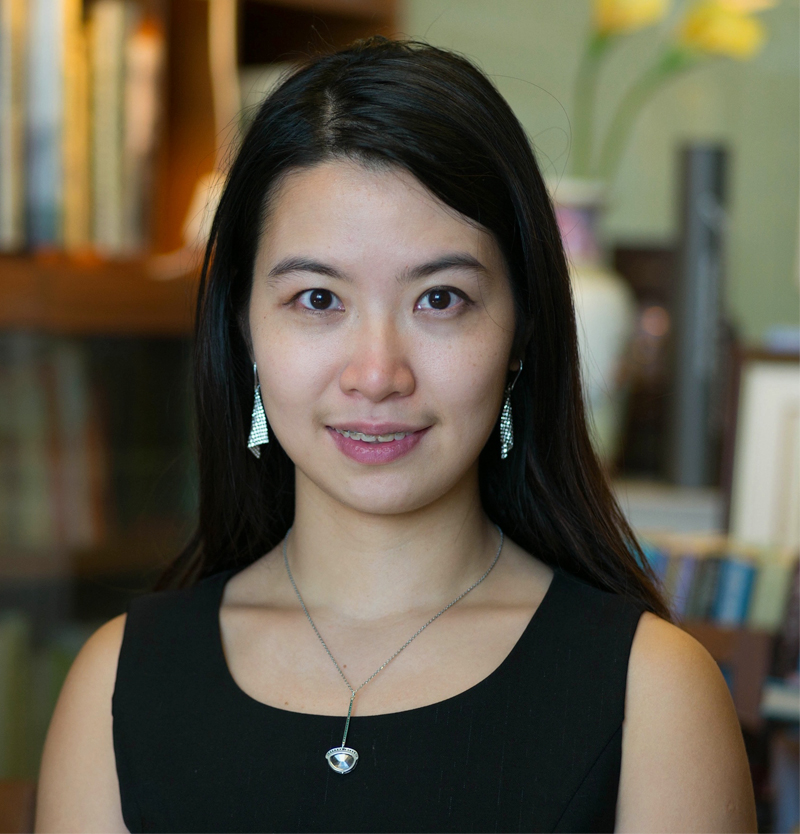 Melody Yunzi Li
Assistant Professor of Chinese
Office: Agnes Arnold Hall Room 659
Email: mli40@Central.UH.EDU
Education | Teaching | Selected Publications | Book Reviews | Affiliations | Links |
Dr. Melody Yunzi Li holds a PhD in Comparative Literature from Washington University in St. Louis, an MPhil degree in Translation Studies from the School of Chinese at the University of Hong Kong, and a BA in English/Translation Studies from Sun Yat-sen University, China. She taught at Transylvania University and Lenoir-Rhyne University before joining the University of Houston as an Assistant Professor in August 2018. Dr. Li also was a visiting scholar at Harvard University 2015-2016. Her research interests include Asian diaspora literature, modern Chinese literature and culture, migration studies, translation studies and cultural identities. She is currently working on her manuscript called Transpacific Cartographies: Narrating the contemporary Chinese Diaspora in the U.S.  She has published in various journals including Pacific Coast Philology, Telos and others. Besides her specialty in Chinese literature, Dr. Li is also a Chinese dancer and translator.


Education
PhD in Comparative Literature, Washington University in St.Louis
MPhil in Translation Studies, University of Hong Kong
BA in English (Translation), Sun Yat-sen University, China
 
Teaching
CHNS 3344  Global Chinese Literature
CHNS/WCL 3342  Tales of East Asian Cities
CHNS/WCL 3343  Chinese Popular Culture
CHNS 3302  Advanced Mandarin Chinese II
CHIN 2311  Intermediate Mandarin Chinese
CHIN 4301  Public Speaking in Chinese
 
Selected Publications
Books
Journal Articles and Book Chapters
(under review) "Singing-and-Dance Hall as a Contested Space in late 1980s-early 1990s China. Comparative Literature and World Literature.
"Remapping New York's Chinatowns in the Works of Eric Liu and Ha Jin'." Remapping the Homeland:Affective Geographies and Cultures of the Chinese Diaspora, edited by Melody Yunzi Li and Rob T. Tally Jr., Palgrave McMillan, 2022. 115-133.
"Reorienting Sinophone America through 'Sinophone Orientalism'." Orientalism and Reverse Orientalism in Literature and Film: Beyond East and West, edited by Sharmani Patricia Gabriel and Bernard Wilson, London: Routledge, 2021.
"'We are Not a Virus': Challenging Asian/Asian American Racism in the 21st Century." U.S. Studies Online: Forum for New Writing, March 22, 2021.
"Rebuilding Home Around Hardened Borders." British Journal of Chinese Studies, Vol. 10, July 2020.
"Translating Waiting-A Study of 'Chineseness' in Translation." (翻譯等待——翻譯中漢語性的研究) 文學論叢12 (2019): 41-52.
"Nightclub as a Liminal Space: Space, Gender, and Identity in Lisa See's China Dolls." Humanities 2018, 7 (4): 126.
"At Home in the World: Hong Kong as a Cosmopolitan City in The Unwalled City." Telos 180 (Fall 2017): 67-86.
"Home and Identity En Route in Chinese Diaspora - Reading Ha Jin's A Free Life." Pacific Coast Philology 49.2 (2014): 203-220.
"The Voice of Otherness in Ha Jin's Waiting." 하 진 (哈金) 의 『기다 (Waiting) 에 나타난 타자성의 목소리 Yonmin hakchi 연민학지 (潤民學志). Journal of the Yon Min Classical Literature Association 연민학회 (潤民學會) 16 (2011): 403-463.
 
Book Reviews
(forthcoming) "Review on Transnational Chinese Theatres, by Rossella Ferrari." Chinese Literature: Essays, Articles, Reviews
"Review on Gu Hongming's Eccentric Chinese Odyssey, by Chunmei Du." PRISM 18.1 (2021): 300-303.
"Review on Revolutionary Bodies: Chinese Dance and the Socialist Legacy, by Emily Wilcox." Wen Xue 2021: 276-280.
"Writing the South Seas: Imagining the Nanyang in Chinese and Southeast Asian Postcolonial Literature by Brian Bernards." Sun Yat-sen Journal of Humanities 中山人文學報41(July 2016): 117-121.
 
Affiliations
Southwest Asian Studies Association
Modern Language Association
American Comparative Literature Association  
Links