Emran El-Badawi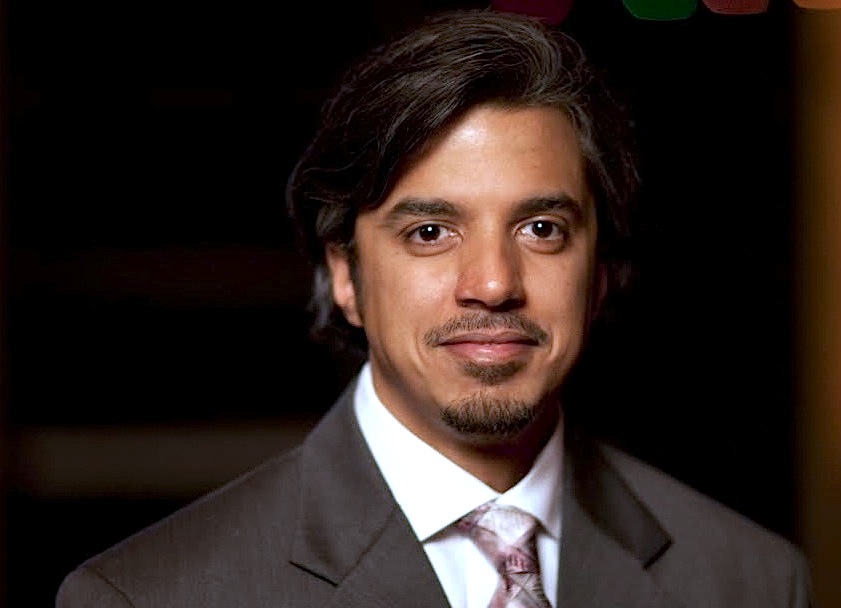 Associate Professor
Program Director, Middle Eastern Studies
618 Agnes Arnold Hall
Phone: (713)743-3044
Email: eelbadaw@central.uh.edu
View CV
BIO
Dr. Emran El-Badawi is program director and associate professor of Middle Eastern Studies at the University of Houston. He founded the Arab Studies program at UH and he has designed, implemented and assessed degree programs in the Humanities and Sciences. These include degrees in Arab-Middle East Studies, Religious Studies and interdisciplinary studies in Energy, Development and Sustainability, with a focus on US-Middle East relations. El-Badawi has consulted for various industries, including government, law and oil & gas. He is also active in program development and fund raising. 
El-Badawi also served as founding executive director and treasurer of the International Qur'anic Studies Association, which is the world's first learned society of its kind. Part of IQSA's goal is to bridge the divide between scholars in the west and those in Muslim majority countries through international conferences. 
El-Badawi has published in English as well as Arabic and has made dozens of national as well as international media contributins or appearances, including for The New York Times, Al-Jazeera, Forbes, Christian Science Monitor and Association Relative à la Télévision Européenne (ARTE). His awards include honorable acclaim by the British-Kuwait Friendship Society Book Prize for his book on The Qur'an and the Aramaic Gospel Traditions. His research examines Middle Eastern and Islamic civilization broadly, including subjects such as late antique Arabia, Qur'an and Bible, Syriac churches and classical Islam, and interdisciplinary discourse on modernity, gender and sustainability. 
El-Badawi has a bachelors degree in Computer Science from Rutgers University, and he received his Ph.D. with honors in Near Eastern Languages and Civilizations from the University of Chicago.
SELECTED PUBLICATIONS
BOOKS
Vanished Queens: Female Power and Male Prophecy in Arabia (under review)
Editor with Paula Sanders, Communities of the Qur'an: Dialogue, Debate and Diversity in the 21st Century, OneWorld, 2019.
The Qur'an and the Aramaic Gospel Traditions, New York; London: Routledge Press, 2013; repr. 2016.


Arabic translation: al-Qur'an al-karim wa taqalid kitabat al-bisharah al-aramiyyah, Arabic trans. Salah M. Edris. Cairo: Dar al-Nahdah al-'Arabiyyah, 2020.
Persian translation (forthcoming)
JOURNAL ARTICLES
"الكنائس السريانية والرسالة القرآنية" (in progress)
"Between Qur'an and Church Canon: Near Eastern law and politics in the long seventh century, ca. 570-705 CE" (in progress)
"الحرية الفكرية والدراسات القرآنية," (Arabic) Al-Machreq Online (forthcoming)
"Intellectual freedom and the study of the Qur'an," Oasis: Christians and Muslims in the Global World 26 (2018): 42-50; "Liberi di studiare il Corano," Oasis: Musulmani, fede e libertà, Perché è questa la vera questione del future, più del terrorismo 26 (2017): 42-50; "Libres d'étudier le Coran," Oasis: Musalmans foi et liberté 26 (18): 42-50. 
"Communities of interpretation: The case of the Qur'an," American Journal of Islamic Social Sciences 33.4 (2016): 146-54.
"Religious violence in the Middle East: Military intervention, Salafi-Jihadism and the dream of a Caliphate" Journal of Cultural and Religious Studies 4.6 (2016): 396-409.
"When Jews and Christians believed in the Qur'an," Conflict and Convergence in Late Antiquity: Judaism and Christianity at the Origins of Islam, Ed. Michael Pregill, Mizan (2015): 1-7.
"البحث عن السياق القرآني، نبذة عن الدراسات القرآنية الحديثة" (Arabic) Al-Machreq Online 5.1 (2014): 1-7.
"The impact of Aramaic (especially Syriac) on the Qur'ān" Religion Compass 8.7 (2014): 220-28.
"From 'clergy' to 'celibacy:' The development of rahbaniyyah between Qur'an, Hadith and Church Canon" Al-Bayan: Journal of Qur'an and Hadith Studies 11.1 (2013): 1-14.
"A humanistic reception of the Qur'an," English Language Notes 50.2, Scriptural Margins: On the Boundaries of Sacred Texts (2012): 99-112.
"Divine kingdom in Syriac Matthew and the Qur'an" Journal of Eastern Christian Studies 61.1-2, 2009.
"Tales of king Abgar: A basis to investigate earliest Syrian Christian syncretism" Journal of Assyrian Academic Studies 20.2 (2006): 25-44.
BOOK CHAPTERS
"Crime and disobedience," Introduction, Sacred Troubling Topics in Hebrew Bible, New Testament, and Qur'an, Ed. Roberta Sabbath. Berlin: De Gruyter (in progress)
"Readings of the Qur'an from outside the tradition," Routledge Companion to the Qur'an, Eds. Daniel Madigan and Maria Dakake. London; New York: Routledge (forthcoming)
"From clerical to scriptural authority: The Qur'an's dialogue with the Syriac New Testament," New Trends in Qur'anis Studies: Text, Context and Interpretation. Ed. Mun'im Sirry. IQSA-Lockwood Press (forthcoming 2018)
"Glaubensbekenntnisse," Koran erklärt. Ed. Willi Steul. Berlin: Suhrkamp Verlag, 2017, pp. 160-62.
Sixteen commentaries (Q 2:255-256; 3:33-63; 4:1-28; 5:105-20; 36:13-27; 37:6-11; 37:149-82; 43:81-83; 44:43-57; 46:7-12; 48; 53; 55; 75; 90; 97), The Qur'an Seminar Commentary / Le Qur'an Seminar: A Collaborative Study of 50 Qur'anic Passages / Commentaire collaboratif de 50 passages coraniques. Eds. G. S. Reynolds and Mehdi Azaiez. Berlin; Boston: De Gruyter, 2016.
"Conflict and Reconciliation: 'Arab liberalism' in Syria and Egypt," Egypt and the Contradictions of Liberalism. Eds. Dalia Fahmy and Daanish Faruqi. London: OneWorld, 2016.
 "Remembering Zakaria," The Qur'an in Conversation. Ed. Michael Birkel. Waco, TX: Baylor University Press, 2014, pp. 40-48.
 "Condemnation in the Qur'an and the Syriac Gospel of Matthew" New Perspectives on the Qur'an: The Qur'an in Its Historical Context 2. Ed. G.S. Reynolds. London; New York: Routledge, 2011, pp. 449-466.
ECYCLOPEDIA & REFERENCE ARTICLES
"Syriac and the Qur'an," The Encyclopedia of the Qur'an, Supplement. Ed. Jane McAuliffe. E.J. Brill (forthcoming)
"Jerusalem and Antioch in the Qur'an," Bible Odyssey (2014).
"Tariq al-Suweidan," The Oxford Encyclopedia of Islam and Women. Ed. Natana DeLong-Bas et. al. Oxford; New York: Oxford University Press, 2013. (winner of 2013 PROSE Award)
"Islamic Humanism," Muhammad in History, Thought, and Culture: An Encyclopedia of the Prophet of God. 2 vols. Ed. C. Fitzpatrick and A. Walker, Santa Barbra, CA: ABC-CLIO, 2013. (winner of US 2015 RUSA Award for "Outstanding Reference Sources") 
EDITORIALS
"Assassinating Soleimani endangers lives in the Middle East and the U.S.," Houston Chronicle, January 7, 2020.
"Energy Security after Abandoning the Kurds and Killing Baghdadi," Forbes, October 29, 2019.
"Will the U.S. go to war with Iran? Americans can't afford to tune out," Houston Chronicle, May 20, 2019. 
"After New Zealand Houston Muslims practice faith and defiance," Houston Chronicle, March 16, 2019.
"The University: America's Frontline against Hate," Arab America, March 28, 2018.
"Sabotaging energy and peace: Trump moves to undermine Iran nuclear deal," Forbes, October 17, 2017.
"Stress. Harvey. And another student's suicide," Houston Chronicle, September 22, 2017.
"Houston Arab Americans Aid Victims of Hurricane Harvey," Arab America, September 6, 2017.
"Trump presidency elicits violence and hate toward Muslims," The Daily Cougar, August 16, 2017.
"Letter 29," American Values, Religious Voices: 100 Days, 100 Letters, February 17, 2017.
"When the largest oil exporter quits the game," Forbes, October 10, 2016.
"Trump creates an election of the extremes," The Daily Cougar, August 17, 2016.
"Muslims should welcome a new, modern perspective on prophet's sayings," Christian Science Monitor, August 7, 2013.
with Gabriel Reynolds, "The Qur'an and the Syriac Bible," Oxford Islamic Studies Online and Oxford Biblical Studies Online, Focus On Essay, June 2013.
with Gabriel Reynolds, "Anti-Muslim video – one more reason for independent scholarship on the Quran," Christian Science Monitor, October 8, 2012. (response by John Weiglhofer, "Quran must be better understood," November 12)
"Arab Studies in the American Academy," Alumni Ties at Rutgers Preparatory School 5.1, July 2012.
with Anthony Banout, "From Tahrir to Maspero: Religious Tensions in Egypt Before and After the Revolution," Sightings - Magazine of the Martin Marty Center, University of Chicago Divinity School, November 3, 2011.
Dozens of blog posts in Arabic and English http://iqsaweb.com; http://iqlid.wordpress.com
TRANSLATIONS
Faleh Husayn, "The Participation of Non-Arab Elements in the Umayyad Army and Administration" (Musharakat al-'anasir ghayr al-'arabiyyah fi al-jaysh wa al-idarah al-umawiyyah), Articulation of Islamic State Structures. Ed. Fred Donner. London: Ashgate Vaiorum, 2012. (Arabic to English)
The Metropolitan Museum of Art. Valley of the Kings/Wadi Al-Muluk [DVD, Arabic Translation] 2006. (Arabic to English)
Transcription, translation and annotation of several MSS from the Arthur Vööbus Syriac manuscript collection, Lutheran School of Theology at Chicago, 2006-2007. (Syriac to English)
REVIEW ARTICLES
Review of Charles Tieszen, Cross worship, Cross Veneration in the Medieval Islamic World: Christian Identity and Practice Under Muslim Rule (London: IB Taurus, 2017), in The Medieval Review, (in progress 2018).
"Andrew Rippin (1950-2016) – In Memoriam," Review of Middle Eastern Studies 51.1 (2017): 1-3.
"The ancient origin of qur'anic laws," Review of Holger Zellentin, The Qur'an's Legal Culture: The Didascalia Apostolorum as a Point of Departure (Tübingen: Mohr Siebeck, 2013), in The Marginalia Review of Books, June 25, 2015.
TEACHING
SUPERVISION
Prof. El-Badawi has served as advisor or committee member for graduate, undergraduate and highschool thesis projects.
COURSES
Jewish-Muslim Relations (co-lecturer; ARAB 3397)
Energy, Society & the Middle East (ENRG 4397, ARAB 3397)
Modern Middle East: Literature, Politics and Ideas (WCL 3377)
Modernity and Rationalism in Islamic Traditions (ARAB 3340)
Early Islamic Society: Literature and Thought ca. 750-1250 (WCL 3341)
Introduction to Arabic Literature in Translation (ARAB 3312)
Women and Gender in Arabic Literature (ARAB 3314)
Qur'an as Literature (ARAB 3313)
Terrorism: Past and Present (guest lecturer; WCL 3397)
Human Situation 1: Antiquity (guest lecturer; HON 2101)
Frames of Modernity I: Renaissance to World War 2 (guest lecturer; WCL 4351)
Elem, Inter & Adv Modern Standard Arabic (ARAB 10101-30201)
Spoken Colloquial Arabic I & II (FLSCAR)
Introduction to Islam (W200)
World Religions (C051)
Western Religions (R053)
Death and Dying (W343)