Sally Vaughn
Professor Emeritus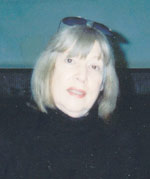 Dr. Vaughn is a scholar of Medieval history, specifically the Medieval church, the Normans and St. Anselm of Bec and Canterbury. Vaughn received her Ph.D. from the University of California, Santa Barbara. She is the co-founder and first director of the Institute for Medieval and Renaissance Studies at the University of Houston, and the co-founder, first Vice President and Conference Director of the Charles Homer Haskins Society for Viking, Anglo-Saxon, Anglo-Norman and Angevin History, which met at the University of Houston for its first fifteen years (1981-1996). She has served two terms as president of the Texas Medieval Association (2005 and 2012).  Professor Vaughn has also served as the chair of the Undergraduate Committee and on the Executive Committee and the Graduate Committee in the History Department. She has directed numerous Ph. D. dissertations and M.A. theses.

Teaching
Dr. Vaughn taught undergraduate courses including World Civilizations to 1500, an overview and comparison of most of the cultures of the world, and tracing their interactions; Barbarians and the Birth of Europe, a survey of the transformation of Rome into the culture of Early Europe; The Vikings, an advanced course on the great adventures and explorations of the Scandinavians, 750-1050; The Normans, an advanced course on Normandy and the great Norman Conquests of England and Southern Italy and the First Crusade; The Crusades, a survey of all aspects of the Crusades, including Spain, Northern Europe, France and the New World as well as the Middle East and The Flowering of the Middle Ages, an exploration of the magnificent cultural achievements of the Medieval Renaissance. Her graduate classes included Historiography to 1500, Readings in Medieval History, Research in Medieval History, The Medieval Church, The Crusades, and World Civilizations.
Research Interests
Dr. Vaughn is the author of four books and more than fifteen articles that have appeared in scholarly journals. Her book, Archbishop Anselm 1093-1109: Bec Missionary, Canterbury Primate, Patriarch of Another World was published by Ashgate Press in July 2012 in the new Ashgate series on the Archbishops of Canterbury, co-sponsored by the current Archbishop of Canterbury.  Dr. Vaughn is currently working on her next book manuscript titled "Prudent Pilots and Spiritual Charioteers: Lanfranc, Anselm and the School and Students of Bec."
Selected Publications
Archbishop Anselm 1093-1109: Bec Missionary, Canterbury Primate, Patriarch of Another World (Ashgate, 2012).

The Abbey of Bec and the Anglo-Norman State, 1034-1136, (The Boydell Press, Bury-St.-Edmunds, 1981).

Anselm of Bec and Robert of Meulan: The Innocence of the Dove and the Wisdom of the Serpent, (University of California Press, Berkeley, 1987).

St. Anselm and the Handmaidens of God: A Study of Anselm's Correspondence with Women, Brepols, Turnhout, 2002

Teaching and Learning in Northern France, c. 1000-1200. Co-edited with Jay Rubenstein, (University of New Mexico), in press, Brepols, Turnhout.