Guadalupe San Miguel, Jr.
Professor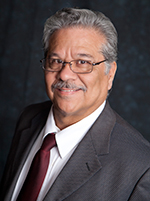 Dr. San Miguel is a scholar of U.S. history who specializes in Mexican American Education and culture. Professor San Miguel received his M.A. and Ph.D. from Stanford University. Much of San Miguel's research has focused on the impact of politics, culture, and language on the education of Mexican Americans. He also has served on the History Department's Executive and Graduate committees. He was President of the National Association of Chicana and Chicano Studies and has served on the Board of Directors for the Institute for the History of Texas Music at Southwestern Texas State University and on the editorial board of the Journal of Latinos and Education. Professor San Miguel has received many awards including the Public Forum Distinguished Lecture Award from North Harris College, the Lifetime Achievement Award from the National Association of Chicana and Chicano Studies-Tejas foco, an Outstanding Book Award for the best book on the History of Education for Brown, Not White, and an international award for one of his articles published in 2016. In 2020 the History of Education Quarterly selected one of his publications as one of the top ten best articles published during the past 60 years.
Teaching
Dr. San Miguel teaches a variety of classes in Chicano studies. Most recently he has taught classes in The History of Tejano Music; Latinos, Politics, & Education; Chicano History Since 1910; The Chicano/a Movement; Readings in Mexican American history, and the Mexican American Civil Rights Movement in the 20th century.
Research Interests
Dr. San Miguel is the author of six books and numerous scholarly articles. He has also been an invited speaker and presented papers at national and international conferences. His current research focuses on ethnicity, religion and politics in the schooling of Mexican children, Latino activism in school reform, and music in Mexican American culture.
Selected Publications
In the Midst of Radicalism-Mexican American Moderates during the Chicano Movement, 1960-1978 (Norma, OK: University of Oklahoma Press, forthcoming in 2022).
Chicana/o Struggles for Education: Activism in the Community (College Station, TX: Texas A&M University Press, 2013).

"Race, Culture and Politics in the Schooling of Ethnic Mexicans in the New American Southwest: The Case of Texas, 1836-1860," The International Journal of Interdisciplinary Educational Studies, Vol 11, Issue 3 (2016): 13-21. doi:10.18848/2327-011X/CGP/v11io3/13-21. www.thesocialsciences.com.

"Comparative Struggles for Educational Equality in the US since the 1960s," The International Journal of the Humanities (Online edition) vol. 9, Issue 4 (2012): 299-307 (http://www.Humanities-Journal.com).

"The Fight for Bilingual Education in Houston: An Insider's Perspective," The Houston Review. Vol. 9, Number 1 (Fall 2011): 48-51.

"Nativism, Immigration and the Latinization of America," Forum on Public Policy Online: A Journal of the Oxford Round Table, Vol 2011, No. 2 (posted August 2011): 1-23.

"Latino Education in Twentieth-Century America: A Brief History." (With Rubén Donato) In Enrique G. Murillo, Jr., Sofia A. Villenas, Ruth Trinidad Galván, Juan Sánchez Munoz, Corinne Martínez, and Margarita Machado-Casas, Eds.,  Handbook of Latinos and  Education: Theory, Research, and Practice.  (NY: Routledge, 2010): 27-62.

"When Tejano Ruled the Airwaves: The Rise and Fall of KQQK in Houston, Texas," In Ed A. Munoz, Editor, Chican@: Critical Perspectives and Praxis at the Turn of the Century (National Association of Chicana and Chicano Studies, 2008).

"The Impact of Brown on Mexican American Desegregation Litigation, 1950s to 1980s," Journal of Latinos and Education. Vol. 4, no. 4 (2005): 221-236.

Contested Policy: The Rise and Fall of Federal Bilingual Education (University of North Texas Press, 2004).

Tejano Proud: Tex Mex Music in the 20th Century (Texas A&M University Press, 2002).

Brown, Not White: School Integration and the Chicano Movement (Texas A&M University Press, 2001).

Let all of Them Take Heed: Mexican Americans and the Quest for Educational Equality (University of Texas Press, 1987; reissued by Texas A&M University Press, 2001).