Monica Perales
Associate Professor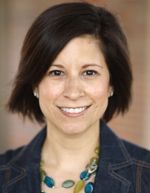 Monica Perales received her Ph.D. in history from Stanford University in 2004. She has been the recipient of various fellowships including the 2009 Women's Studies Faculty Summer Fellowship, and was the 2006-2007 Summerlee Fellow in Texas History at the William P. Clements Center for Southwest Studies at Southern Methodist University. Professor Perales is a member of the Board of Directors of Humanities Texas, the state affiliate of the National Endowment for the Humanities, and has served on the boards of the Urban History Association and the Labor and Working Class History Association. She is also the Associate Director of the Center for Public History at UH.  She holds a B.A. in Journalism (1994) and M.A. in History (1996) from the University of Texas at El Paso.
Teaching
Professor Perales' general teaching interests include Chicana/o labor and social history, immigration, American West, Borderlands and oral history.
Research Interests
Perales' research explores questions of race, gender, nation, labor, community and identity on the border. She is presently working on a manuscript project on Mexican American women, labor, and foodways in the U.S. Southwest in the 20th century. Her first book, Smeltertown: Making and Remembering a Southwest Border Community (University of North Carolina Press, 2010) received the 2010 Kenneth Jackson Award for Best Book (North America) from the Urban History Association.  Her article, "Fighting to Stay in Smeltertown," was named best article by the Oral History Association in 2008.
Through the Center for Public History, she is also collaborating with Dr. Todd Romero on oral history projects through the "Gulf Coast Food Project: History, Culture, and Economy," which documents the diverse food history of the Gulf Coast region.
Selected Publications
Books
Articles
"The 'New Mexican Way': The New Mexico Agricultural Extension Agency, Hispanas, and Making a Regional Cuisine," in Meredith Abarca and Consuelo Salas, eds., Latinas/os' Invisible and Visible Presences in the Food Systems: Changing How We Eat and Who We Are (University of Arkansas Press, forthcoming 2015).

"On Borderlands/La Frontera: Gloria Anzaldúa and Twenty-Five Years of Research on Gender in the Borderlands," Journal of Women's History, 25th Anniversary Issue, vol. 25, no. 4 (Winter 2013).

"Who has a greater job than a mother?: Defining Mexican Motherhood on the US-Mexico Border in the Early 20th Century," in David Adams and Crista DeLuzio, eds. On the Borders of Love and Power: Family and Kinship in the Intercultural American Southwest (Berkeley: University of California Press, 2012).
"Fighting to Stay in Smeltertown: Lead Contamination and Environmental Justice in a Mexican American Community" (Western Historical Quarterly, Spring 2008).