James Kirby Martin
Cullen Professor Emeritus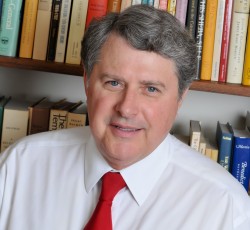 James Kirby Martin retired from the Department after teaching during the 2017-18 academic year as the Charles Boal Ewing Visiting Professor of Military History at the United States Military Academy, West Point, NY. In 1918 he was named a UH Emeritus Professor of History.
Since then he has completed various writing projects, including revising an earlier book, now titled Insurrection: The American Revolution and Its Meaning (Westholme, 2019). His first co-authored novel, Surviving Dresden: Life, Death, and Redemption in World War II (Permuted Press, with distribution by Simon & Schuster) appeared in October 2021.
Having authored, co-authored, or edited fourteen non-fiction books, besides this novel, he is working to finish a volume on the critical role that Fort Ticonderoga played in winning the American Revolutionary War plus completing a study of just war theory as applied to that same conflict (with co-authors Mark E. Lender and T. Cole Jones).
Martin remains committed to discussing and evaluating important historical issues with the general public as a public speaker in regular demand. In terms of film work, after several years in the making, a two-hour TV documentary, titled "Benedict Arnold: Hero Betrayed," based on Martin's biography of Arnold, is now available on several streaming services. Martin served as an executive producer and talking head for this production; the film is narrated by well-known actor Martin Sheen. Other film projects are in various stages of development.
In recent months Martin has appeared on TV programs produced by the History Channel and Fox Nation. He serves on the Trustee Boards of the Fort Ticonderoga Association and the Fort Plain Museum, both located in New York. He continues as a historian advisor to the Oneida Indian Nation of New York and as an advisory editor for the "Small Battles" book series sponsored by Westholme Publishers.
In 2020 the national organization of Sons of the American Revolution named him their historian honoree for that year in recognition of his accomplishments in writing and teaching about the American Revolution.
For further information on his publications and current activities, see Martin's website, https://jameskirbymartin.com/.