HHP Doctoral Student's Paper Selected as Finalist in NASSM Student Research Competition
HHP Doctoral Student Myungwoo Lee's paper has been selected as a finalist in The NASSM (North American Society for Sport Management) Student Research Competition. Along with a monetary award, Myungwoo has been invited to present his paper at the 2018 North American Society for Sport Management Conference being held in Halifax Canada from June 5 - 9, 2018.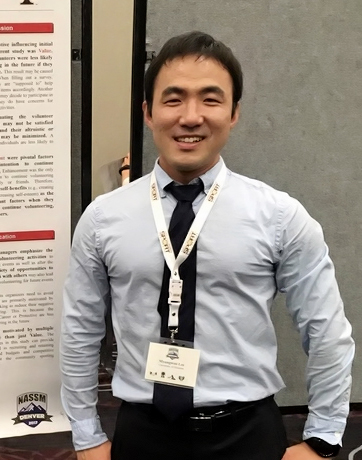 Myungwoo Lee

Myungwoo's paper, titled "The Role of Brand Extension Authenticity in Sport: A Case Study of Nike Jordan and Under Armour Coffee", investigated the role of brand extension as a valuable strategic device for firms to expand their business spectrum beyond their original brands and enhance their brand equity. The key finding of this study was that implementing brand extension strategies by highlighting brand authenticity can enable firms to leverage their brand equity, and reap greater financial benefits such as reducing initial costs for marketing and minimizing the potential risk of brand extension failure.