Dr. Olvera wins Salud America! Research Grant.
HHP's Dr. Olvera is one of the winners of a $75000 grant from Salud America! for research on reducing and preventing obesity among Latino youths. Dr. Olvera heads the BOUNCE (Behavior Opportunities Uniting Nutrition, Counseling and Exercise) research group at HHP.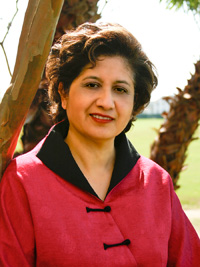 Dr. Norma Olvera
Dr. Olvera's project titled "From Mothers to Daughters: A Physical Activity Dosage Intervention to Impact Adiposity" will assess and compare the efficacy of two exercise programs in reducing adiposity indicators and in increasing daily minutes of moderate-to-vigorous physical activity (MVPA) in Latino mothers and their 9- to 14-year-old daughters in Houston. HHP faculty Dr. Dennis Smith and Dr. Jian Liu along with Dr. Patrick Leung from The Graduate School of Social Work at UH are co-investigators of this project.

The first program, BOUNCE, provides one weekly exercise session, and the second program, ReBOUNCE, is an after-school aerobic program providing three exercise sessions per week. After participating in BOUNCE, 50 Latino mother and daughter pairs will be randomly assigned either to continue in BOUNCE (control condition) or to switch to ReBOUNCE (experimental condition).
The programs are hosted at a local school, a community center, and adjacent parks. The project hypothesizes that the ReBOUNCE program will be more effective in reducing adiposity indicators and increasing MVPA minutes because of the two additional exercise sessions per week.
About Salud America!:
Salud America! The Robert Wood Johnson Foundation, Research Network to Prevent Obesity Among Latino Children is a national network of researchers, community leaders, policymakers, and other stakeholders who are working together to increase the number of Latino scientists seeking environmental and policy solutions to address Latino childhood obesity.
Visit the Salud America! website
About BOUNCE:
The mission of the BOUNCE program is to empower Hispanic and African American preadolescent girls between the ages of 9-14 and their parents, through collaborative efforts between academia and community, to adopt a healthy lifestyle by incorporating healthy food choices, daily exercise, and positive self-esteem while forming lasting friendships in a fun and exciting environment.