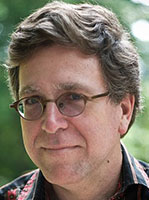 Peter Turchi is the author of five books and the co-editor of three anthologies. His books include Maps of the Imagination: The Writer as Cartographer; Suburban Journals: The Sketchbooks, Drawings, and Prints of Charles Ritchie, in collaboration with the artist; a novel, The Girls Next Door; a collection of stories, Magician; and The Pirate Prince, co-written with Cape Cod treasure hunter Barry Clifford, about Clifford's discovery of the pirate ship Whydah. His short story "Night, Truck, Two Lights Burning," listed as one of 100 Notable Stories of 2002 by the editors of Best American Short Stories and one of 15 Recommended Stories by the jury for the O. Henry Prize Stories, has been published in Arabic and, in English, combined with images by Charles Ritchie, in a limited edition artist's book. He has also co-edited, with Andrea Barrett, A Kite in the Wind: Fiction Writers on Their Craft, The Story Behind the Story: 26 Stories by Contemporary Writers and How They Work and, with Charles Baxter, Bringing the Devil to His Knees: The Craft of Fiction and the Writing Life.
Peter Turchi's stories have appeared in Ploughshares, Story, The Alaska Quarterly Review, Puerto del Sol, and The Colorado Review, among other journals. He has received Washington College's Sophie Kerr Prize, an Illinois Arts Council Literary Award, North Carolina's Sir Walter Raleigh Award, and fellowships from the National Endowment for the Arts and the John Simon Guggenheim Memorial Foundation.
Born in Baltimore, he earned his BA at Washington College in Chestertown, Maryland, and his MFA at the University of Arizona. He has taught at Northwestern University and Appalachian State University, has been on the faculty of the Bread Loaf Writer's Conference, and served as a Visiting Professor in the Department of English at the University of Houston. From 1993 through 2008 he directed The MFA Program for Writers at Warren Wilson College in Asheville, North Carolina.