Professor of English and Director of Women's Gender & Sexuality Studies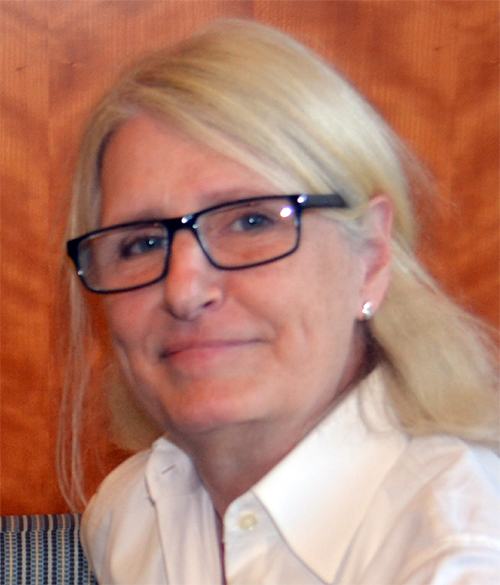 Elizabeth Gregory, Taylor Professor of Gender & Sexuality Studies and Professor of English, directs the WGSS Program and the UH Institute for Research on Women, Gender & Sexuality. She writes on Marianne Moore's poetry and women's work and fertility.
Her 2021 book, "Apparition of Splendor: Marianne Moore Performing Democracy through Celebrity, 1952-1970," argues for the brilliance and populist panache of the poems of Moore's late phase, long ignored by critics. "AOS" offers in-depth readings of these multi-layered poems and of Moore's daring and innovative use of her late-life celebrity to activate long-held egalitarian principles. Cross-dressed as George Washington in cape and tricorne and writing about accessible topics like sports, TV, holidays, love, activism, mortality and celebrity, Moore reached a wide cross-section of Americans, engaging them in consideration of what democracy meant in their daily lives, around issues of gender/ race/ sexuality/ high-low dynamics/ immigration/ aging/ and more.
Gregory's book "Ready: Why Women Are Embracing the New Later Motherhood" (2012/2007, Basic Books), based on in-depth interviews with 100+ new later moms and extensive collateral research, shatters the myths surrounding later motherhood. Her more recent work in this realm explores the effect of an expanded school schedule on women's workforce participation and how to build a culture and economy of care.
Since 1994, Professor Gregory has been the Director of what is now the Women's, Gender & Sexuality Studies Program. As Director, she has expanded the program and, along with the Friends of Women's Studies, developed the early phase of what is now the Carey C. Shuart Women's Archive and Research Collection in UH Special Collections, which collects the papers and oral histories of Houston area women's organizations and women who have made history in Houston. The Friends of Women's Studies sponsor the Table Talk Luncheon, the Barbara Karkabi Living Archives Interview Series, and the Fast Friends Speed Networking socials. Click for more on the IRWGS, founded in 2019.
Education
Ph.D. Yale University
M.A. University of Kentucky
B.A. Barnard College
Selected Publications
Books
Apparition of Splendor: Marianne Moore Performing Democracy through Celebrity, 1952-1970 (U Delaware Press, 2021).
Editor, Marianne Moore's 1960-1969 Poetry Notebook, Transcription and Edition, Marianne Moore Digital Archive (forthcoming, www.moorearchive.org, 2022).
Co-Editor, with Stacy Carson Hubbard, 21st-Century Marianne Moore: Essays from a Critical Renaissance  (New York: Palgrave Macmillan, 2017).
Ready: Why Women Are Embracing the New Later Motherhood (New York: Basic Books, December 2007; paperback edition with a new Preface, including updated data documenting the recession effect and expanded analysis of the trend, August 2012).
Quotation and Modern American Poetry: "'Imaginary Gardens with Real Toads'" (Houston: Texas A&M UP/ Rice UP, 1996).
Editor, The Critical Response to Marianne Moore (New York: Praeger, 2003).
Selected Essays
"Late Onset Motherhood: Many Stories, One Radical Plot Change," in Tick Tock: Essays on Becoming a Parent After 40, ed. Nan Bauer-Maglin and Vicki Breitbart (Dottir Press, 2021).
Pandemic Gender Snapshots: Series, 1-11 (2020-22) published to date. Houston/Harris County Covid-19 Fatalities by Gender, Race/Ethnicity & Age.
Houston/Harris County Gender & Sexuality Data Reports: 2020, 2021 (with Audrey Miller and Claire Chi-Hung Kang).
"Is Andy Warhol Marianne Moore?: Celebrity, Celibacy and Subversion." Twenty-First Century Marianne Moore (Palgrave: 2017): 237-251.
Marianne Moore's 'Blue Bug': A Dialogic Ode on Celebrity, Race, Gender and Age," Modernism/Modernity 22.4 (November 2015): 759-786.
"'Still Leafing': Celebrity, Confession, Marianne Moore's 'The Camperdown Elm,' and the Scandal of Age," Journal of Modern Literature 35.3 (Spring 2012), 51-76.
"The Economics and Politics of Delayed Birth Timing," Journal of the Motherhood Initiative 3.1 Mothers and the Economy: The Economics of Motherhood (Spring/Summer 2012), 80-95
"Confessing the Body: Sexton, Plath, Lowell, Ginsberg and Berryman," in Modern Confessional Writing: New Critical Essays ed. Jo Gill (New York: Routledge, 2005), pp. 33-49.
"'Combat Cultural': Marianne Moore and the Mixed-Brow," in Critics and Poets on Marianne Moore: A Right Good Salvo of Barks, ed. Linda Leavell, Cristanne Miller and Robin Schulze (Lewisburg, PA: Bucknell University Press, 2005), pp. 208-21.
"Unravelling Penelope: The Construction of the Faithful Wife in Homer's Heroines", Helios 23, no. 1 (1996): 3-20.