Sharon Grigsby Hill, MBA, BEI Masters Level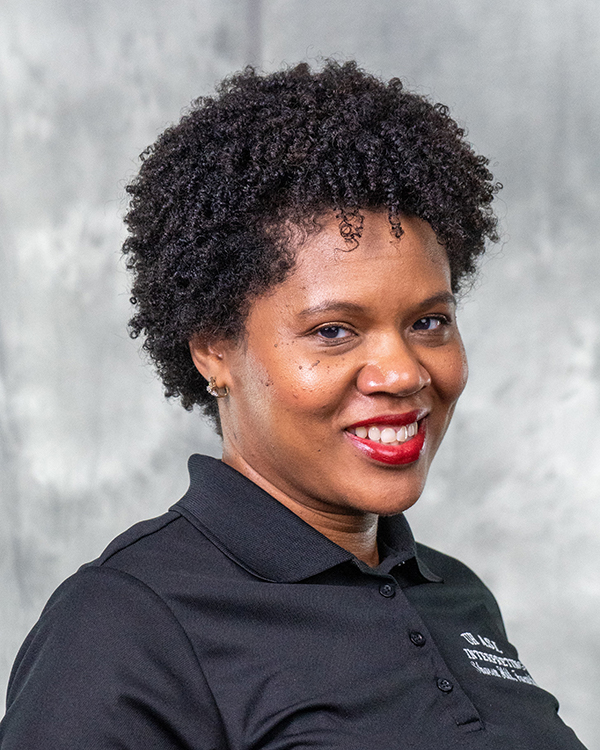 Instructional Assistant Professor and ASLI Program Director
Phone: (713) 743-4140
Email: shill@uh.edu 
Office Location: Melcher Life Sciences M250D
Curriculum Vitae
---
Sharon Grigsby Hill is an Instructional Assistant Professor and the Director of the ASLI program. She has been interpreting professionally for 24 years and is a Master Level interpreter, which is the highest level of interpreting certification awarded by the Board for Evaluators of Interpreters (BEI). She also holds a Level IV and Medical Interpreter certification. She has served as Chair of the BEI Advisory Board which advises BEI regarding the application of rules, policies and procedures as they relate to certified sign language interpreters, as well as evaluating and certifying interpreters.  She has completed doctoral work in the Interpretation and Translation Studies from Gallaudet University and is currently completing her PhD in Applied Linguistics from the University of Birmingham in England. 
Education
Doctoral student, Applied Linguistics, University of Birmingham, Birmingham, England 
MBA, Business Administration, Texas Woman's University, Denton, TX
B.A., General Business, University of Houston-Victoria, Victoria, TX
Teaching
History of Interpreting (SGNL 2233)
Multiculturalism & Diversity in ASL Interpreting (SGNL 2335)
Consecutive Interpreting & Translation (SGNL 3430)
Simultaneous Interpreting I (SGNL 3433)
Simultaneous Interpreting II (SGNL 3434)
Service Learning-Internship (SGNL 4489)
Service Focus
Ms. Hill's service commitments directly relate to her interests in promoting and advancing the field of interpreting and translation. She also has extensive experience in theatrical interpreting so several of the ASLI program collaborations allow for her to share her expertise and knowledge with those entering the profession. Lastly, Ms. Hill's research interest explores the use of AAVE and its impact on the work of ASL interpreters. Ms. Hill's hope is that by combining service and research she is making a significant and dynamic change to the way interpreters are trained.
Service Activities/Accomplishments
Member of Medical Interpreter Performance Test Committee for Board for Evaluation of Interpreters (BEI)
Coordinator and Trainer, Summer Institute annual training sponsored by the Department of Assistive and Rehabilitative Services (2016-present)
Interpreting Liaison and Event Coordinator for Museum of Fine Arts of Houston – Deaf Community events (2016-present)
Theatrical interpreter mentor, Main Street Theater
Faculty advisor, American Sign Language Society at UH
Professional Activities
Former Chair & Board Member, Advisory Board for Evaluation of Interpreters Board Member and Former Chair
Coordinator for the first ever in-school partnership in Texas between deaf students and Big Brothers Big Sisters
Event Coordinator and Panel moderator for three Untold Stories events held at the University of Houston featuring influential Black Deaf community members