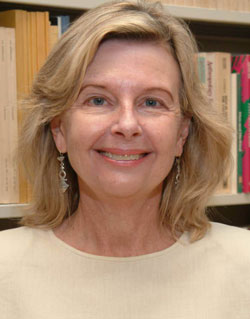 Professor
Anthropology
Ph.D., Indiana University
Old Science Building, Suite 230
713-743-3787
srasmussen@uh.edu
Biography
Professor Susan Rasmussen has conducted extensive field research in rural and urban Tuareg communities of northern Niger and Mali and among African immigrants in France. Her interests include religion, medico-ritual healing systems and specialists, gender and intergenerational relationships in aging and the life course, verbal art performance, cultural memory, and more broadly, relationships between symbolism and power and between anthropology and human rights/social justice. She has published numerous articles in scholarly journals and edited volumes and six authored books. Current projects include analysis of data from her most recent fieldwork projects on Tuareg youth culture in and around Agadez, Niger and on diasporic Kabyle and other African converts in France.
Research Interests
Religion
Gender
Aging and the life cycle
Medico-rituals and healing specialists
Verbal art performance
Memory
Human rights
Africa (Sahara; Sahel; West Africa; North Africa)
Awards
Africanist Award for Research Excellence, University of Texas, Austin, March, 2008
Organizations
American Anthropological Association
American Ethnological Society
The Semiotic Society of America
African Studies Association
Houston Museum of Natural Science
Houston Museum of Fine Arts
Amnesty International
Selected Publications
Rasmussen, Susan. Spirit Possession and Personhood among the Kel Ewey Tuareg. N.p.: Cambridge; University Press, 1995.
Rasmussen, Susan. The Poetics and Politics of Tuareg Aging. Northern Illinois University Press, 1997.
Rasmussen, Susan. Healing in Community. N.p.: Bergin & Garvey Press, 2001.
Rasmussen, Susan. Those Who Touch: Tuareg Medicine Women in Anthropological Perspective. Northern Illinois University Press, 2006.
Rasmussen, Susan. (2009). Critically Re-Thinking 'Islamic Dress', The American Journal of Semiotics, vol 25. 1-2 ,pp.1-23.
Rasmussen, Susan. Do Tents and Herds Still Matter, Pastoral Nomadism and Gender, eds., Carolyn Sargent and Caroline Brettel, Prentice Hall Press, pp. 162-174.
Rasmussen, Susan. (2008). The People of Solitude, Journal of the Royal Anthropological Institute, vol. 14, pp. 609-627.
Curriculum Vitae