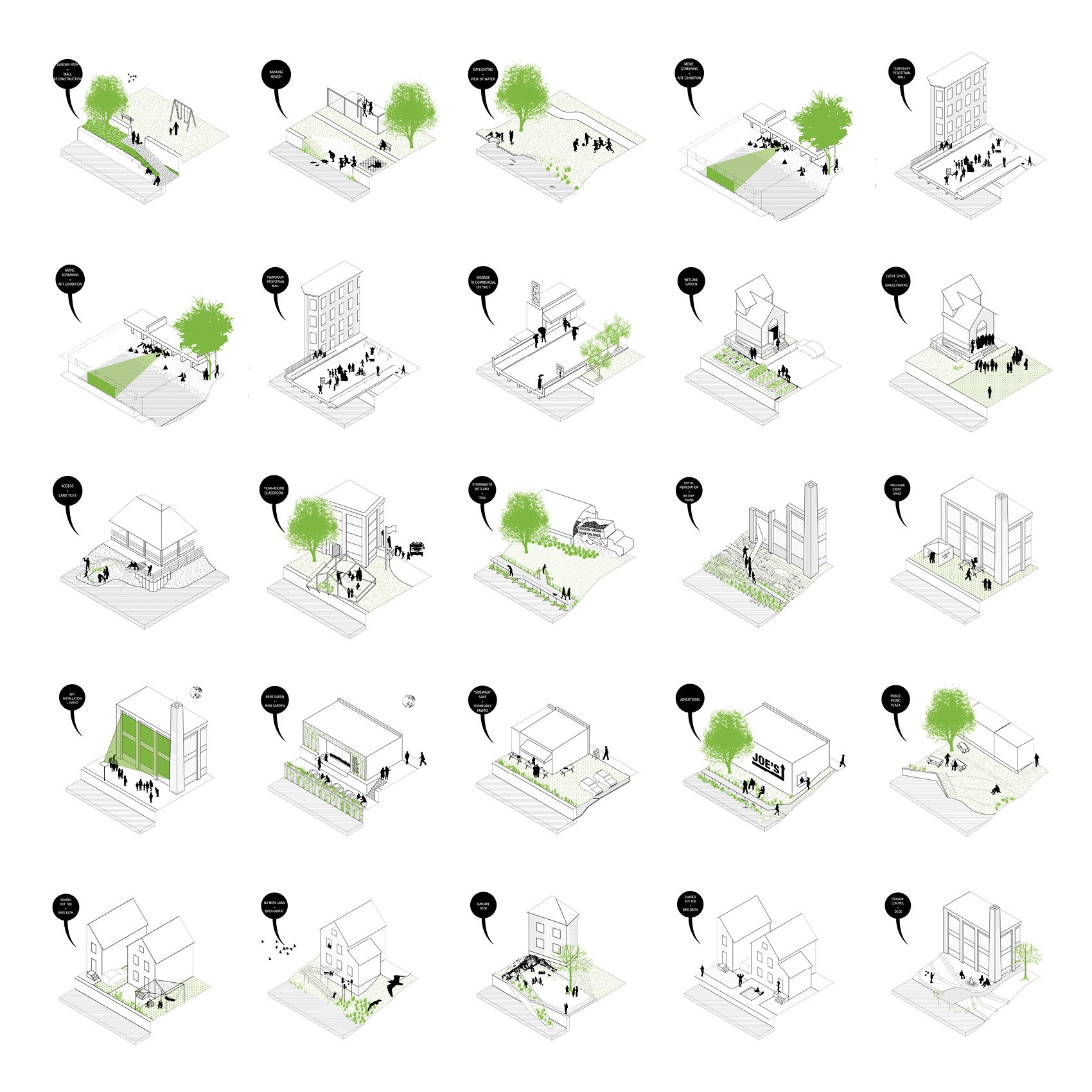 The Master of Science in Architecture with a concentration in Urban Design [MS ARCH Urban Design] is a post-professional degree focused on contemporary urbanity.  It provides an integrative way of looking at all of the complexity of the contemporary city, exploring the potentials and opportunities that are already inherent in urban thinking. This program explores in a highly innovative fashion the cultural and technological landscapes of Houston. With a flexible curriculum, the degree allows for individuation within a broad selection of elective courses. The degree provides for an intensive yearlong (two semester) degree track with highly individuated curation of content allowing for a deep and focused inquiry. Culminating in an individual yearlong Master Degree Project, the post-professional students have an opportunity to examine diverse issues confronting contemporary urbanism.
At the beginning of the twenty-first century global cities are defined by massive change.  In the developing world, urban expansion is so rapid that conventional planning systems cannot keep pace with growth.  And in the developed world, existing infrastructure and urbanism is often unable to accommodate shifting realities.  In both settings, settings threats of climate change, environmental degradation, failing infrastructures, and public health issues are challenging the livability of our cities.  New models are needed to address these major challenges. 
The MS ARCH in Urban Design program seeks to provide those new models.  Its focus is not solely on issues of policy or design or community development, but rather an integrative way of looking at the complexity of the contemporary city.  It seeks to merge planning, design, and ecological thinking, in an acknowledgement that the challenges of the contemporary city cannot be addressed through policy or design alone. The program will provide students a means to intervene in the city in productive, innovative ways—across disciplines, platforms, and methodologies. 
The Megalopolis: Houston
The MS ARCH in Urban Design takes full advantage of Houston as a laboratory for invention/intervention.  Investigations range from community development initiatives in disadvantaged neighborhoods to large-scale public works projects, long-term environmental studies, designs of city segments, and speculative projects that explore new concepts for evolving cities across the globe.  
The city has been described as a "problem-rich", an ideal place for research, scholarship and design of future urbanism—a city in transformation. It is the 4th largest U.S. city at the center of a region of over 4 million people with the country's largest port and largest petro-chemical complex. Its growing economy is in the formational stages of transit-oriented land use and design policies, revitalizing neighborhoods, and recovering coastal edge habitat. It is a dynamic and culturally diverse city facing natural and manmade environmental challenges whose solutions are of growing importance. 
PROGRAM
The MS ARCH in Urban Design program is an immersive experience, graduating creative problem solvers capable of facilitating community discussions about livable, sustainable, and healthy cities. Our goal is to create strategic thinkers who lead multidisciplinary design teams.
Through their interdisciplinary studies in the MS ARCH in Urban Design program, students will: be prepared to assess and examine wide-ranging urban issues including: economic development, urban design, landscape & infrastructure integration, ecological systems, urban energy systems, and building performance; they will gain a working understanding of the legal, economic and regulatory framework of federal, state, and local environmental policies; they will be able to make the business case for resilience and pursuing sustainable development; they will be able to define and promote sustainable community development; demonstrate the ability to manage collaborative community engagement processes that uphold social and environmental justice and problem solving; articulate sustainable environmental strategies with verifiable indicators and metrics while developing professional written, oral, and visual communication skills.
MS ARCH in Urban Design Degree Plan
Urban Design-Based Studio Curriculum
Ideal for Designers and Design-Development Professionals
The Master of Science in Architecture with a concentration in Urban Design degree is a design-based program centered on the studio, for students already possessing a professional degree in architecture, urban planning, urban design, landscape architecture, or related design fields. It integrates aspects of urban design, planning, and environmental thinking within the context of the design studio, in order to provide new methodologies for envisioning the contemporary city. The program prepares students for design-based research and professional practice at the front edge of urban thinking. The two semester program consists of 36 academic credits in consecutive Fall and Spring sessions.
SAMPLE MASTER OF SCIENCE IN URBAN DESIGN CURRICULUM
| | |
| --- | --- |
| Semester 1 — Fall Core |   |
| Elements of Urbanism Core Studio | 6 Units |
| Urban Determinants (6376) | 3 Units |
| Methods of Urban Analysis | 3 Units |
| Master Project Prep (6393) | 3 Units |
| Elective | 3 Units |
| Fall Total:​​​​​ | 18 Units |
| | |
| --- | --- |
| Semester 2 — Spring Core |   |
| Advanced Master Project Studio | 6 Units |
| History of Urban Policy and Development | 3 Units |
| Elective | 3 Units |
| Elective | 3 Units |
| Elective | 3 Units |
| Spring Total:​​​​​ | 18 Units |
| | |
| --- | --- |
| Total Degree Requirements:​​​   | 36 Units |