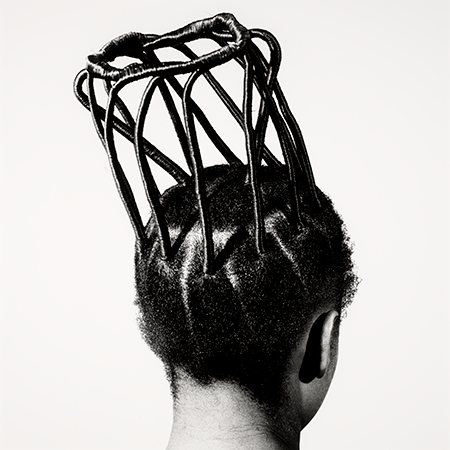 The Graham Foundation for Advanced Studies in the Fine Arts announced yesterday that University of Houston Gerald D. Hines College of Architecture and Design Professor Sheryl Tucker de Vazquez's proposal Hair Salon: Translating Black Hair Practices for Architecture Using Computational Methods is among its 2021 grant award recipients. Positioned between the natural and the cultural, the project explores how the natural texture and maintenance of Black hair can be translated to architecture. Tucker de Vazquez will collaborate with Felecia Davis (Penn State University), Marcella Del Signore (New York Institute of Technology), and William D. Williams (Rice University).

Inspiration struck Tucker de Vazquez while attending a show at the Museum of Fine Arts Houston, where she saw photos of exotic hairstyles taken by a Nigerian photographer. One photograph, in particular, was that of natural black hair woven into a basket, creating space.

"I thought to myself, they are already making space with hair," said Tucker de Vazquez. "What happens if we do this in architecture? What does that look like?"

With the idea of using braided hair to create space, Tucker de Vazquez sought to test out the concept through preliminary student investigation. During the spring 2020 semester, her 3501 Interior Architecture studio designed a Libromat, a combination of a laundromat and library in Houston's Third Ward, that eventually received a 2020 American Institute of Architecture (AIA) Houston Chapter Design Award. The project showed it was possible to develop space using rule-based methods for weaving Black hair. Its success encouraged Tucker de Vazquez to continue pursuing this notion.

"I was already working on this idea with my students in the spring of 2020, but a few months later, George Floyd's death brought the Black Lives Matter movement to the forefront," shared Tucker de Vazquez. "I thought this project was very timely because it speaks to affirming black identity in an architectural space." 

While much of African material culture did not survive the transatlantic slave trade, Black hair textures and styles have remained as one of the most enduring signifiers of Black identity in the United States. Until recently, there were no protections for Black hair; however, in 2019, California passed the CROWN (Create a Respectful and Open Workplace for Natural Hair) Act, legislation prohibiting discrimination based on hairstyle and hair texture. Five states – New York, Colorado, Washington, Virginia, Maryland, and New Jersey – and the United States Military followed in adopting protections for Black hair. Before the CROWN Act, African American women could be forced to change their hair or be sent home if their hair was not considered a "professional" style.

"The act of braiding is a rule-based system. All processes in black hair, including cornrows, locking hair, and even crocheting are rule-based," said Tucker de Vazquez. "The computational piece allows us to manipulate those rules and inflect them in ways to create other kinds of possibilities."

The use of computational methods to translate Black hair and its practices provides an opportunity to shape architecture that speaks to the Black identity. While there has been research performed in this area concerning textiles, this has never been investigated before in architecture. 

"I am excited because I have been searching my entire career for material properties and elements specific to African American culture and identity," shared Tucker de Vazquez. "Since we do not have material architecture, material elements, including the Black body itself, become the point of departure for architecture."

The Hair Salon project will culminate in an exhibition at the Hines College in August 2022. Tucker de Vazquez hopes to have a hairstylist at the exhibition to demonstrate the unique African hair designs that initially inspired her and then show the translation into computational skills. Having received such a distinguished grant from the Graham Foundation, she plans to pursue additional funding through the National Endowment for the Arts to develop a traveling exhibition that will ultimately reach people throughout the United States.

"We live in such a western civilization and culture, where African Americans are along the edges and western culture is at the center," stated Tucker de Vazquez. "What I am trying to do is take African American ways of being in the world and putting that in the center."

Sheryl Tucker de Vazquez is an associate professor at the University of Houston Gerald D. Hines College of Architecture and Design. She has published extensively on the influence of African American culture on the American built environment, and her design work has been recognized with multiple design awards. In 2020, Tucker de Vazquez chaired the Hines College's Diversity, Equity, and Inclusion Task Force to identify opportunities for change, concluding in a comprehensive report. She is currently a member of the College's new Diversity, Equity, and Inclusion Action Task Force charged with implementing action items from the DEI report. This year's support from the Graham Foundation is her second grant through the prestigious program. 

You can learn more about Hair Salon: Translating Black Hair Practices for Architecture Using Computational Methods by visiting the Graham Foundation website.