Alumni Spotlight: Franco Albarran (99')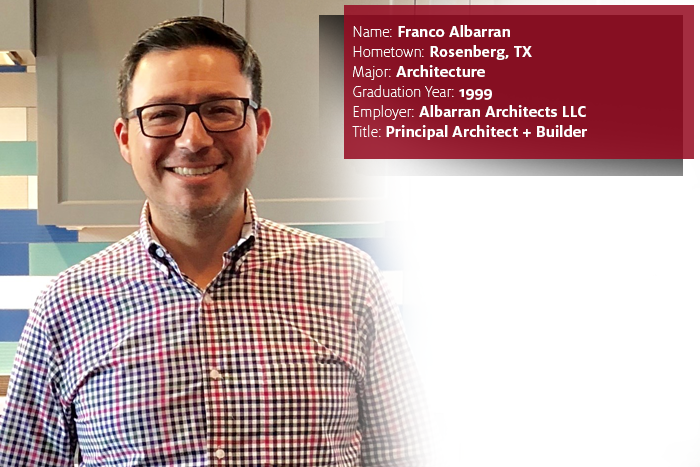 Why did you choose the Gerald D. Hines College of Architecture and Design and what drew you to design?
I've been around design my whole life. My father is a 5th generation custom jewelry designer and fabricator. As a kid, I grew up "tinkering" in his jewelry shop. I am the fourth architect on my mother's side of the family. As a teenager, I would spend the summers working at my uncle's architectural studio. I would attend meetings, meet onsite with contractors, and do some design work. I chose Hines because the College's architecture program has a great reputation – and it was close to home!

Was there a professor that impacted your education and career?  
By far the best professor I had was Tom Diehl. I also had the opportunity to work for Tom from 1997 – 2000. He was a excellent professor, boss, and mentor. He was a very influential person in my professional career.

What has been your career path since graduation?  
After graduation, I worked for Tom Diehl until 2000. I then worked for a big commercial firm for a few years but felt a calling for residential design. In 2002, I worked for another residential architect, John Yeung. In 2004, I started my architectural practice, Albarran Architects LLC, with a focus on custom residential design. In 2011, I started a construction company and now provide full design + build services.

What does a typical day look like in your job?  Do you have a particular design philosophy?

My design philosophy is good design is good design. Whether contemporary or traditional, all good design adheres to the same basic architectural principles of form, space, and order.
What is one accomplishment of your career that you are particularly proud of? 
Making the 2018 Cougar 100 is one of my proudest achievements, and to place 12th overall was an honor.
 
What is a valuable lesson that you learned during your time at the Hines College of Architecture and Design? 
The college taught me how to manage my time. In architecture and construction, time management is extremely important.   
What is a piece of advice you would give to current Architecture and Design students?

Believe in yourself and your abilities. Take calculated risks and understand you may fail, but never give up and always keep moving forward towards your goals. Learn to fail by analyzing the experience and develop a better plan or process. I am a big believer in positive thinking and work hard to keep a positive mindset.