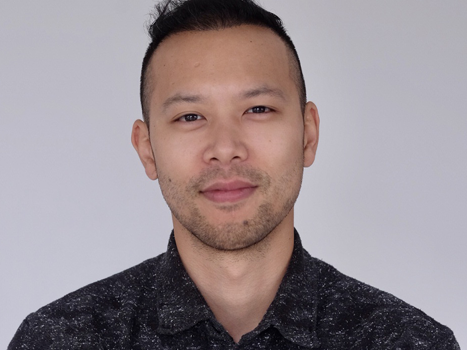 Name: Alan Nguyen
Hometown: Katy, Texas / Amsterdam, NL
Major: Architecture, Industrial Design
Graduation Year: 2011
Employer: Space Junk
Title: Owner
Why did you choose the Gerald D. Hines College of Architecture and Design, and what drew you to design?
When I came to the University of Houston, I was initially an Engineering major only because my father was an architect. I had grown up hearing his stories of late nights and taking five years to graduate, so I tried my best to steer clear and avoid Architecture. I eventually decided to look into the College and see what was so intriguing. From that moment, my life changed, and the College of Architecture and Design became my home. I was so invested in the College that I decided to also study Industrial Design, before moving to Amsterdam, where I currently reside.
What was one of your favorite memories from your time on campus?
There are many great memories, but the most memorable is the day I switched my major from Engineering to Architecture and was accepted in the first-year summer program. This program is an intensive first-year studio packed into two months with new assignments every day and work that must be redone if not accepted.
I remember entering the Architecture building to the enormous atrium, lost and looking around for my summer studio. I was told it was on the third floor, so I took the elevator to the third floor. I found my class and sat through 45 minutes until I realized I was in the wrong class! I embarrassingly told the professor and left to look for my studio.
I immediately spotted a small group of students surrounding a tall man with glasses. I walked over to the group and asked if this was the first-year summer studio. The instructor, who happened to be Professor Cord Bowen, replied, "Yes, but I have a strict first-day policy. I do not accept students if they miss their first day. Since this is the second day, I am sorry, but I cannot accept you in my studio."
Just like that, I thought my career was over. Luckily, I had brought my acceptance letter with me, and we discovered the date was incorrect. I technically arrived on the first day according to my letter. Professor Bowen understood it was a mistake, let me back in the studio, but said, "You still have to do yesterday's assignments today."
Was there a particular professor that influenced your education?
Cord Bowen was the single most influential professor of my academic career. He brought the best out of every student. He opened my eyes to design and instilled an everlasting passion I hold to this day.
While studying Architecture, I was also fortunate to learn from professors Robert Griffin, Andrew Vrana, Jason Logan, Tom Diehl, Santiago Perez, and our previous dean Joe Mashburn. In the Industrial Design program, Adam Wells, William Lidwell, and Eunsook Kwon had a significant impact on my education.
Trang Phan was a strong force during my education because she supported my unique curriculum requests and allowed me to pave my own path.
What has been your career path since graduation? Where are you currently working and in what capacity?
While studying Architecture, I also ventured into Industrial Design, which requires an internship as part of its degree plan. I landed an internship as a 3D designer at a pioneering 3D printing design studio in Europe – Freedom of Creation. This experience forever changed the course of my life.
After the internship, Freedom of Creation offered me a full-time job, and I decided to stay in The Netherlands. While working there, I designed 3D printed lighting, smartphone accessories, furniture, footwear, and jewelry.
Eventually, 3D Systems, the inventors of 3D printing, acquired Freedom of Creation. Under 3D Systems, I had the opportunity to work on the first commercial home 3D printer called the Cube, and its accompanying platform, Cubify. I also had a chance to collaborate with Hines College alumna Kellee Kimbro, who was working for NOOKA at the time. Together we created several 3D printed watch designs. Currently, one of the designs is in the permanent collection of the Stedelijk Museum in Amsterdam.
In 2014, I decided to venture out and create my own design label, Space Junk, which I still operate today. Having my own business allowed me to collaborate with creatives in different industries. Space Junk consults and occasionally produces products. Since its inception, I have collaborated and consulted with many design studios and companies including, Philips Design, IDEO, Frog, Microsoft, 3D Hubs, Studio Molen, SummitID, Fairphone, New Matter, PVH, The New Originals, Sumibu, Maison Raksha, and many others.
Alongside my business ventures, I collaborate and create art together with my partner, Enrica Masi, who is also a designer.
What does a typical day look like in your job?  Do you have a particular design or business philosophy?
Every day is different. I am currently working on six projects. Of course, most of my work revolves around 3D printing, which has very diverse applications from industry to industry. At times it can be overwhelming, but at least I can say it is never dull. My design philosophy is a combination of Dieter Rams' "Form Follows Function," with a dash of Ross Lovegrove's biomimicry.
What is one accomplishment that you are particularly proud of in your career? How do you feel the College prepared you for this?
If I look back on my career, thus far, humbly, several accomplishments bring me joy. First, having one of my designs permanently displayed in a museum. Second, making the leap of faith to become an entrepreneur. I have been working on an ongoing project with Figura Nova Foundation for many years now. Together we are developing 3D printed prostheses for women who have undergone breast cancer surgery. I am very proud of the work we have done and fortunate to contribute to the wellbeing of these women. Lastly, I have always wanted to be part of the hip hop community, so I recently collaborated with a jewelry designer to create a diamond-encrusted jewelry piece for Lil Nas X.
The Hines College prepared me for all of these experiences simply by teaching me how to present to others and confidently express my ideas.
What is a valuable lesson you learned during your time at the College of Architecture and Design? 
Doing things right the first time takes less time than rushing and making a mistake.
What is a piece of advice you would give to current Architecture and Design students?
Do things that inspire you and find out what makes you happy. Never stop learning. There are no excuses. People don't forget. The only thing you can control is how you spend your time.
Right now is the time to challenge yourself. Explore the deepest corners of your imagination. Use this time to discover your design sensibilities, philosophies, and aesthetics, knowing there is a long road ahead to fine-tune and adjust throughout your career!