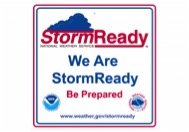 The University of Houston was recently recognized by the National Weather Service as being StormReady. This means the University has met a number of requirements regarding our ability to receive, disseminate and monitor weather warnings through the use of the University of Houston Police Department's (UHPD) Dispatch Center and the Emergency Operations Center.
The University demonstrated its ability to meet all StormReady requirements through a formal application and on-site review process. The National Weather Service and partners inspected our Emergency Operations Center and UHPD Dispatch Center to ensure all procedures and systems were in place.
The Emergency Operations Center and UHPD Dispatch monitor weather forecasts and real-time weather reports through multiple channels, one of which is utilizing a live chat site called NWSChat. This chat site connects individuals and groups directly to forecasters at the National Weather Service to receive real time watches/warnings and to be able to report any storm damage directly to the forecasters in the office.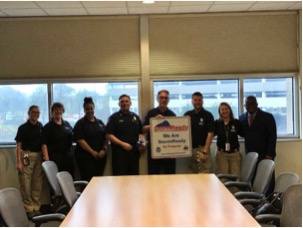 The University has also developed the necessary plans, processes, training and exercises to prepare our community to respond to all types of severe weather. Director of Emergency Management, Kelly Boysen, commented on the importance of this recognition, "acquiring the StormReady designation is a huge milestone for the University of Houston. It demonstrates that UH has put in place numerous requirements to prepare and respond to severe weather in order to protect our University community." Boysen added "I am beyond proud of the Office of Emergency Management and UHPD staff who worked tirelessly to achieve this important initiative."
StormReady designation requires that recipients recertify every three years in order to maintain the designation. For additional information on StormReady, visit https://www.weather.gov/stormready/.