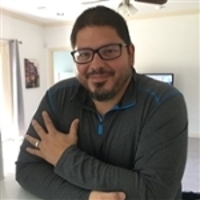 Highlighting the success stories throughout the Division of Administration and Finance, this month's profile features Rick Beltran, Assistant Director of Facilities Technology for Compliance, Reporting, and Training. Responsible for carrying out maintenance, planning, and construction, the Office of Facilities is often considered the motor that keeps the University of Houston running.
Rick began his career at UH in 2011 as an instructor in the Jack J. Valenti School of Communication. In 2017, he became an analyst with Facilities Management. Within his current role, last year Rick received the prestigious global certification from Global Information Assurance Certification & Global Industrial Cyber Security Professional (GIAC GICSP) that only 1 out of less than 2,500 are allowed to obtain.
In addition to his recent certification, Rick's background of working with the United States Marine Corps on high profile cases, contributed to how he believes the University of Houston's opportunities of upward mobility has had an impact on his career.
Q: Tell me about your career journey and how it led you to becoming Assistant Director of Facilities Technology for Compliance, Reporting, and Training.
A: I was recruited to work at every level of the government (local, state, and federal) after serving honorably in the United States Marine Corps. I was responsible for providing legal and technical expertise to judges, prosecutors, and law enforcement. I was fortunate to work in high profile/high priority criminal cases. In 2007, I used my education and technical expertise to track down and assist in the prosecution of a cyber-terrorist that threatened to blow up a federal government building. (see USA v. William Henry Henderson, Case No. 4:08-CR-539-1). I was recognized for my ability to gather, process, organize, visualize and present data to decision makers. In addition, I was hand-picked to teach technology at two tier-one universities (University of Houston and University of South Carolina).
Q: Earning the GIAC GICSP certification was quite impressive. You're 1 of 2,500 around the world to have done so. What was the process like and how do you apply it to your daily responsibilities?
A: The exam consisted of 115 questions and you have 3 hours to complete. The minimum passing score is 71% correct. To prepare for the exam I completed SANS Institute's ICS/SCADA Security Essentials (10/29/2018 to 11/2/2018). I took 3 official three-hour practice exams and failed each one, but I did better after each time. I studied the five major knowledge areas (ICS Overview, Field Devices and Controllers, Supervisory Systems, Workstations and Servers, and ICS Security Governance) for four months before taking the exam. I spent the first 30 minutes on the first three questions but eventually calmed down and remembered my training. It was the most difficult exam I have ever taken as "the GICSP bridges together IT, engineering and cyber security to achieve security for industrial control systems from design through retirement." I am now able to find our "unknown" internet-connected systems, devices, and equipment and put them in the hands of experts to mitigate.
Q: How has working with Facilities helped you grow on a personal level?
A: Associate Vice Chancellor and Associate Vice President for Facilities/Construction Management, David Oliver and Al Rajan, presented me with the opportunities to solve highly complex technical problems (and I love being challenged and solving problems). He has not only provided me with upward mobility but training opportunities to become a better speaker, leader, and project manager.
Q: What has been your greatest accomplishment thus far in your career at UH and why?
A: I was able to use known "hacking tools" to solve a business problem. It made me feel like a kid again and renewed my passion for teaching others.
Q: What was the best advice ever given to you and who did you receive it from?
A: "Why not You?" "Why not Rick Beltran?" "Why not me?" That is what Wilma Stephens (Executive Coach) asked me before I took the Global Industrial Cyber Security Professional (GICSP) certification and passed.
_________________________________
[1] https://www.sans.org/course/ics-scada-cyber-security-essentials?msc=PR
[1] https://www.giac.org/certification/global-industrial-cyber-security-professional-gicsp