The University of Houston Emergency Notification System Workgroup recently received the Everbridge 2019 Impact Award for their unique and innovative use of the Everbridge Platform.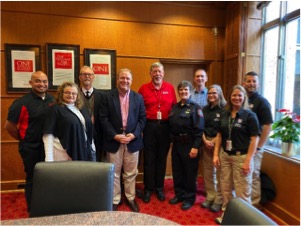 Everbridge is the platform used for the University's mass notification system, UH ALERT. The Emergency Notification System Workgroup is a multi-disciplinary work group that maintains the UH ALERT System. The Workgroup includes representation from the Office of Emergency Management, University of Houston Police Department, Technology Services and Support, and University Marketing and Communications. In addition to maintaining the program for UH ALERT, the workgroup also conducts regular testing of the system.
The workgroup worked to design and implement a system that updates daily with contact data from the student and employee databases, which ensures contact information is accurate and consistent. This task took long months of collaboration and coordination with many departments across campus. The group also developed an effective emergency alert system that sends to multiple University of Houston alert channels simultaneously to ensure effective and efficient delivery. These channels include: UH ALERT website, E-mail, Text Message, UH ALERT Facebook, UH ALERT Twitter, UH Homepage, Digital Signage, and the UH Go Mobile App.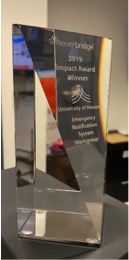 This system was put through the test during Hurricane Harvey in August of 2017. The system sent 12 UH ALERT messages to the entire campus, which is upwards of 55,000+ contacts for each message. Not only did the system prove to be an effective way to communicate emergency information quickly through the variety of university channels, it met the challenge with ease.
The Emergency Notification System Workgroup consistently looks for ongoing opportunities to enhance the UH ALERT System, including new functionality and technology to improve how the University can quickly distribute emergency notifications to the campus community. The workgroup is a strong force working to ensure that the campus always stays informed.
For additional information on UH ALERT, visit http://alerts.uh.edu/about/.