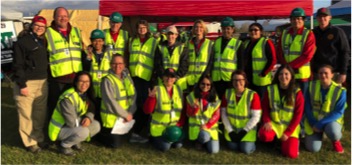 The University of Houston competed in Harris County Citizen Corps CERT Rodeo for the second year on Saturday, February 8, 2020. The Community Emergency Response Team or (CERT) is a Federal Emergency Management Agency program which trains participants in lifesaving skills that can be used following a disaster where first responders are overwhelmed or not immediately available.
The annual CERT Rodeo event provides a competitive atmosphere that allows CERTs from across the state to practice their skills by participating in a variety of challenging drill-like stations. After each station, the team is scored and briefed on areas where they excelled or ways they can improve. Scores are tallied at the end of the rodeo so teams can have an idea of where they fall in relation to other teams in Texas. This year, only 100 points separated the highest and lowest scores at CERT Rodeo with the highest score being 1039. The UH CERT Team accumulated a score of 989. Such a great second rodeo!
The University of Houston's Office of Emergency Management, in conjunction with the University of Houston's Fire Marshal's Office, offers CERT training at least once per academic year. Throughout the year UH CERT members participate in events, to help refresh skills learned in the training class. For more information about CERT, or to be added to the interest list to join the UH CERT Training course, please visit the OEM Website.