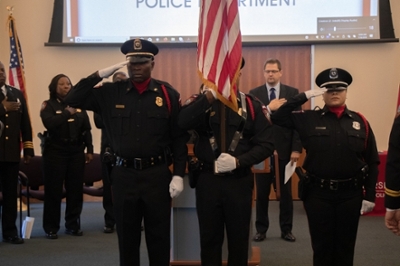 "Excellence is difficult," said Chief Ceaser Moore Jr., Assistant Vice Chancellor of Police Operations and Chief of Police, as the University of Houston Police Department (UHPD) pinned badges on new officers, supervisors and dispatchers joining the force at the celebratory badge-pinning ceremony held on November 6.Moore stressed to the dignitaries, families and supporters that excellence takes hard work, commitment, perseverance and dedication. "These qualities are on full display every day as the professionals at UHPD discharge their duties with effort and respect," he emphasized.
The program included commissions and badge pinning for the following new supervisors:
            Captain Bret Collier
            Captain Michael Coleman
            Lieutenant Anthony Davis
            Lieutenant Damon Hines
            Lieutenant Ronald Hunter
            Sergeant Anthony Adams
            Corporal Radovan Simek
New Police Officers:
            Officer Albert'Nisha Cosey
            Officer Elijah Green
            Officer Darvin Johnson
            Officer Marlon Poralan
            Officer Joseph Richardson Jr.
            Officer Amir Watkins
            Officer Daniel Williams 
New Lead Security Officer: 
            Officer David Dunn
New Police Dispatchers:
            Sanovia Banks
            Komal Bhakta
            Abnner Duran
            Emmanuel Flores
            Saul Llamas
            ShaRhonda Masters
            Pamelyn Montes
            Kshipra Sawant
The entire team was recognized for the collaborative effort leading to the 2019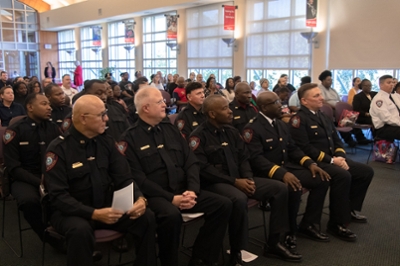 Most Improved Clery Compliance Program by the National Association of Clery Compliance Officers and Professionals, the International Association of Campus Law Enforcement Administrators re-certification and the top ranking by Security Magazine 2019.
Congratulations to all of the new Supervisors, Officers and Dispatchers!
To see allof the pictures from the event, click HERE