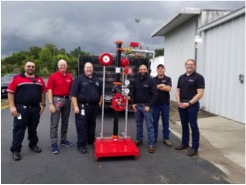 Earlier this year, staff from the University of Houston Fire Marshal's Office met with some members of the Western States Fire Protection service department to discuss them putting together a training sprinkler system for UH. This system was designed in order to allow the University of Houston Fire Marshal's Office to show the use and functions of sprinklers through hands-on training. As the University community grows, more sprinkler systems are being installed. Having a hands-on system to be used in training classes will allow a better understanding of funcations, and an opportunity for hands-on sessions without compromising the buildings on campus.
After the product was designed, Western States reached out to their partners at the Reliable Automatic Sprinkler Company and JBR 1 Industrial Services, who agreed to build the system. Western States and their partners provided all parts, labor and delivery free of charge to the University of Houston.
The system is completely protable. It can be taken all around campus for training classes. The Fire Sprinkler Training Riser has numerous parts commonly found on campus. It boasts a main control valve, which shows how to shut off water to the system, as well as a floor control valve, which isolates a specific section of a system. Additionally, it has a water gong, which alerts when water is flowing, a feature comonly found on buildings with sprinkler systems. The Fire Sprinkler Training Riser has both an upright and pendant style head, to reflect the common positions sprinkler heads are in. The two heads on the same pipe can be used to show that when one head activates, the other will as well when it reaches the conditions required for it to do so. 
The University of Houston Fire Marshal's Office is extremely thankful for this donation. Deputy Fire Marshal Josh Hahn said, "we cannot thank these partners enough for this generous act. We are very excited to start using the Fire Sprinkler Training Riser for educating campus staff, students and neighboring agencies." 
If your department is interested in fire safety training, please call 713-743-5858.