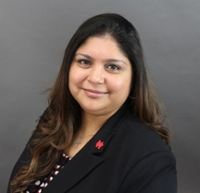 As the old saying goes, "Slow and steady wins the race," and after interviewing Executive Director of University Services, Esmeralda Valdez, that saying most definitely holds true. She's the face behind the scenes of UH's essential services like Cougar Cards, printing and mail, and sustainability, active in multiple professional organizations where she serves in leadership roles, and also co-founded the Affinity Group Luncheon held during the National Association of College Auxiliary Services (NACAS) annual conference, all while pursuing her Ph.D. in Higher Education Leadership and Policy Studies at the University of Houston. Impressive, to say the least.
When asked about her career journey and how it led her to more than 27 years at the University of Houston, she stated, "Well, I started off as a part-time student worker working in the Division of Administration and Finance and within a year I was working full time as a secretary. After that, I started working my way up." When asked how she climbed her way up the career ladder at UH, Valdez's answer was pretty simple: networking. "Throughout the years, I met lots of people and always was eager to learn. Through those years, I was able to build my skill set and competencies and network within the division."
Though Valdez made it clear that the relationships she gained through her career at UH greatly benefited her, her A&F colleagues feel that she's also benefited them, describing her career journey as inspirational.
"It's very humbling and I'm very honored," said Valdez. "We are all guilty of not taking the time to reflect on our accomplishments; we just keep going. But hearing that makes me feel very humbled and proud to be part of the team."
Valdez, who is a proud Latina, strongly believes that representation matters, which led her to organize the Affinity Group Luncheon at this year's conference. Valdez who also serves on the 2020 Planning Committee for NACAS in Anaheim and is a member of the NACAS Research Advisory Group, was motivated to co-create the Affinity Group Luncheon when she realized that the conference was missing a space where people can convene and feel more at home. Valdez, who's known as "Esme," continued by saying, "It's always great attending these conferences, but they're huge! We wanted to create a space where it's not so overwhelming for people that choose to identify a certain way." The event was a year in the making, including brainstorming, menu planning, marketing and sponsorship opportunity. "We thought it would be great if we get 20 or maybe 50 people. We had a little bit over 100 people to attend, which was a huge success!" she stated.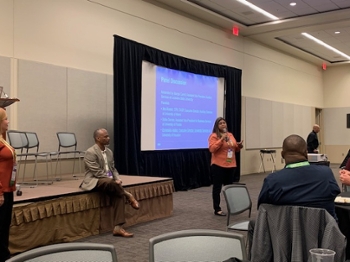 In addition to serving as co-chair of the event, Valdez also participated in the discussion as a keynote panelist. . "The panel was very much just tell your story and doing that was very uplifting and empowering. After the luncheon, a lot of folks came up to me and thanked me for being vulnerable and brave as they could relate to my story in some way," she explained.
Congratulations to Esmeralda Valdez on her ongoing success. If you have an inspirational story that tell, send us your ideas for the next A&F SPIRIT Spotlight profile to cfo@uh.edu.