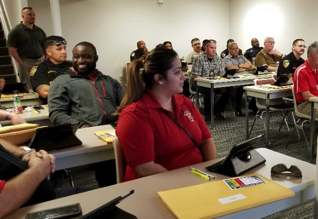 The University of Houston Fire Marshal's Office is now participating in a program sponsored by the U.S. Department of Homeland Security's Office of Bombing Prevention.

The Bomb-making Materials Awareness Program aims at reducing and mitigating the making of improvised or homemade explosive devices within the United States. By performing outreach to places where materials that can be used in making bombs are located or sold – such as stores, chemical labs and warehouses – the program hopes to reduce future explosive incidents by educating workers and managers about things they need to be aware of and report. 

The Fire Marshal's Office, in collaboration with the UH Police Department and Environmental Health and Safety, are leading this initiative on campus and surrounding areas. UH is the first university in the state and nation to participate in the program. In addition, UH has the first fire marshal's office and campus police department in Texas to participate. 

UH is collaborating with the Department of Homeland Security to develop the program for other universities. The Fire Marshal's Office would like to thank DHS for its assistance, as well as Sgt. Charles Mistric of the Waller Police Department, who is the program's liaison. 

UH hosted a class on the program July 19, which was attended by representatives from the Houston Police Department and the Fort Bend County Fire Marshal's Office.