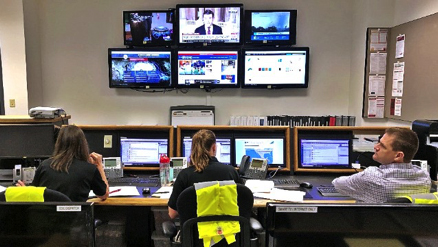 On May 30, the University of Houston Office of Emergency Management and members of ride-out teams from individual UH departments successfully completed a functional exercise.

The annual exercise to test the University's Emergency Management Plan and Continuity of Operations Plan focused on a hurricane exercise and ride-out team procedures. 

This exercise allowed participants to work in Veoci, the new incident management system. The exercise gave them the opportunity to test the Veoci system, their hurricane processes, and coordination with the University's Emergency Operations Center (EOC). 

The Office of Emergency Management designed, facilitated, executed and participated in this functional exercise. Development started months ago when the Office of Emergency Management began developing the ride-out team functionality in Veoci. The software system allows ride-out team supervisors and leads the ability to complete various tasks with ease and efficiency. 

Once the ride-out team portion was built in the Veoci system, training was conducted during the annual ride-out team supervisor/lead training. To develop and practice those skills even more, the Office of Emergency Management designed a functional exercise around the use of Veoci during a ride-out team activation for a hurricane. 

"We wanted to develop a functional exercise that would accomplish multiple goals including testing the new ride-out team features in the Veoci system, test ride-out team coordination with the Emergency Operations Center, and test internal EOC processes," Director of Emergency Management Kelly Boysen said. 

During the exercise, ride-out team members participated in multiple conference calls, completed initial team check-in procedures, submitted situation reports and a hot-wash report (a debriefing of strengths and areas of improvement) and demobilized their teams, all within Veoci. The hurricane exercise lasted roughly two hours and included all phases – pre-storm, ride-out and recovery – allowing participants the opportunity to experience the processes and procedures conducted during a real hurricane event. The exercise scenario involved a category 4 hurricane impacting the Houston area. 

It concluded with a debriefing conference call, with feedback being submitted through the Veoci system to capture lessons learned. 

"The ultimate goal of the exercise is to capture lessons learned, to determine what works well and what doesn't. We want to learn what processes and procedures need improvement during an exercise, not during a real-world event, and this exercise did just that," Boysen said.