Representatives from the Chemical Safety unit of University of Houston Environmental Health and Life Safety attended the recent ExxonMobil's Partners in Academic Laboratory Safety Workshop. 
Now in its sixth year, this important and innovative program establishes mentoring relationships between ExxonMobil and faculty, staff and students from partner universities to enhance laboratory safety culture. This is the first year that UH Environmental Health and Life Safety has participated. 
"This was a great opportunity to partner with ExxonMobil, as well as to build working relationships with other universities." UH Chemical Safety Manager Dr. Zhen Fu said.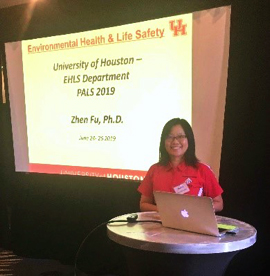 Delegations from Texas A&M University, University of Texas, University of Florida, Georgia Tech and Washington University in St. Louis also participated. Events included ExxonMobil laboratory tours to highlight different aspects of laboratory safety, including rotating equipment and chemical handling, to documentation and engineering controls. 

The participating schools gave presentations on their current lab safety programs to get feedback on how to improve them. 

UH students from the Department of Chemistry and the Department of Chemical & Biomolecular Engineering also attended.

"It was an eye-opening experience that showed us how much other institutions are investing in their safety program to ensure students' safety," said Corrie Peterson, a graduate student in the Department of Chemistry.