Administration & Finance / News /
News Release
FOR IMMEDIATE RELEASE
'Whose Live Anyway' Bringing Improvised Humor to UH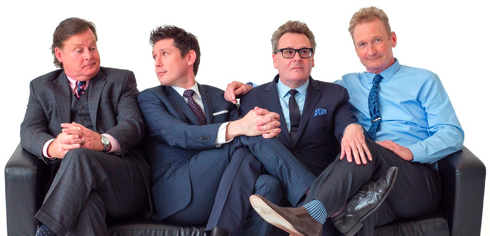 Houston, Feb. 2, 2017 — "Whose Live Anyway," an improvisational comedy show filled with games, scenes, songs and audience participation, is making a stop at the University of Houston.
The show is set for Friday, May 19, at 8 p.m. in Cullen Performance Hall. Tickets are available through Ticketmaster's website or by phone at 800-745-3000. Tickets may also be bought on the day of the show with cash only at the Cullen Performance Hall box office, while supplies last.
"Whose Live Anyway" is the live stage version of "Whose Line is it Anyway," the popular television program that ran from 1998 to 2007 with Drew Carey as host, and which was reborn with new host Aisha Tyler in 2013.
The live touring version stars comedians Ryan Stiles, Greg Proops, Jeff B. Davis and Joel Murray. For more information about the show, visit its website.
For more information about Cullen Performance Hall, follow it on Twitter, Facebook and Instagram.
---
About Cullen Performance Hall
Nestled among the tree-lined sidewalks in the heart of the University of Houston campus is the historic Cullen Performance Hall, which has been one of the premier entertainment venues in the city of Houston since it opened in 1950. Its cozy, relaxed atmosphere provides the ideal setting for music concerts, public lectures, dance performances and theatrical productions.