Administration & Finance / News /
News Release
FOR IMMEDIATE RELEASE
Abigail Nivens
UH Dining Services - Marketing Coordinator
832-843-7051
nivens-abigail@aramark.com
UH Dining to Celebrate Valentine's Day and Anti-Valentine's Day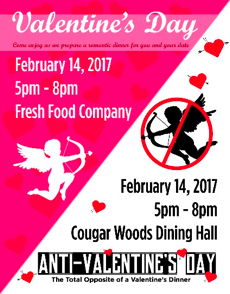 Houston, Feb. 03, 2017 — University of Houston Dining Services will host Valentine's themed dinners on Tuesday, Feb. 14, from 5 to 8 pm.
Fresh Food Company Valentine's Day festivities will be the ultimate date for UH sweethearts. Menu items will include upscale plates inspired by love stories from the big screen such as "Breakfast at Tiffany's" and "Lady and the Tramp."
Cougar Woods Dining Hall, however, will feature just the opposite to accommodate those who prefer to protest the holiday. The dining hall will be a self-love paradise complete with chicken wings and macaroni and cheese. There will be no judgment if items from the sundae bar are eaten as a main course. To view menus for both events, visit UH Dining's website.
For more information about dining services on the UH campus, visit www.uh.edu/dining. Join UH Dining on Facebook, Twitter and Instagram to receive the latest dining information.
---
About the University of Houston
The University of Houston is a Carnegie-designated Tier One public research university recognized by The Princeton Review as one of the nation's best colleges for undergraduate education. UH serves the globally competitive Houston and Gulf Coast Region by providing world-class faculty, experiential learning and strategic industry partnerships. Located in the nation's fourth-largest city, UH serves nearly 44,000 students in the most ethnically and culturally diverse region in the country.