Administration & Finance / News /
News Release
FOR IMMEDIATE RELEASE
Richard Zagrzecki
Communications Coordinator
832-842-4722
rzagrzec@central.uh.edu
Art For Your Health Walks to Continue in Spring Semester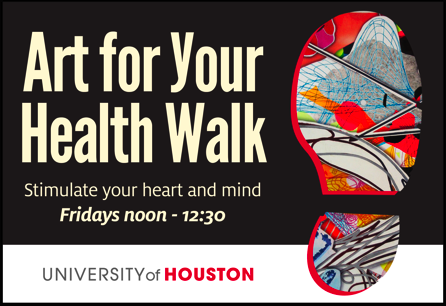 Houston, Feb. 8, 2017 — The Art for Your Health Walks, a weekly initiative that allows the UH community to improve their health while learning more about campus art, will continue during the spring semester.
The walks are scheduled to take place Fridays from noon to 12:30 p.m., starting Feb. 17 and continuing through April 21. No walk will take place Friday, March 17, because of the spring break holiday.
The route and starting point will change from week to week. Those who are interested in participating are asked to register online so organizers know how many people to expect. Below are the registration links for each walk:
The walks, which were launched in the fall semester and proved to be popular among faculty and staff, are a collaboration between the UH Public Art Collection, POWER UP Employee Wellness and the Blaffer Art Museum. The walks will be conducted at a brisk pace with stopping points at various outdoor works of art.
Participants are encouraged to wear comfortable walking shoes, use sunscreen, wear a hat and sunglasses, and to bring a water bottle. The walks begin promptly at noon, so participants should arrive several minutes early.
The UH Public Art Collection comprises more than 500 works across the UH System, including nearly 300 pieces found on the UH campus. For more information about the collection, visit its Facebook page.
For more information about other health initiatives at UH, visit www.uh.edu/human-resources/wellness.
---
About the University of Houston
The University of Houston is a Carnegie-designated Tier One public research university recognized by The Princeton Review as one of the nation's best colleges for undergraduate education. UH serves the globally competitive Houston and Gulf Coast Region by providing world-class faculty, experiential learning and strategic industry partnerships. Located in the nation's fourth-largest city, UH serves nearly 44,000 students in the most ethnically and culturally diverse region in the country.