Administration & Finance / News /
News Release
FOR IMMEDIATE RELEASE
Emily Fahner
UH Dining Services - Marketing Manager
832-985-2278
Fahner-Emily@aramark.com
UH Dining Participates in Service Saturday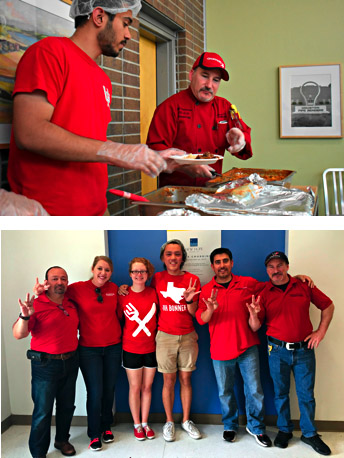 Houston, May 2, 2017 — University of Houston Dining Services partnered with Campus Kitchens to serve residents at New Hope for Housing facilities.
Managers from the UH Dining team prepped and served lunch alongside students from Campus Kitchens the last two Saturdays in April. The meals were prepared from food recovered from on-campus dining halls throughout the week.
"It is special to not only work alongside my team, but also these students who are making a difference in the Houston community," said Nick Mendez, resident district manager. "We look forward to continuing this partnership in the years to come."
Campus Kitchens is a student organization through the Bonners Leadership program. Students recover leftover dishes from on-campus dining halls five days a week. Over 10,000 pounds has been recovered this academic year.
For more information about dining services on the UH campus, visit the UH Dining website. Join UH Dining on Facebook, Twitter and Instagram to receive the latest dining information.
---
About the University of Houston
The University of Houston is a Carnegie-designated Tier One public research university recognized by The Princeton Review as one of the nation's best colleges for undergraduate education. UH serves the globally competitive Houston and Gulf Coast Region by providing world-class faculty, experiential learning and strategic industry partnerships. Located in the nation's fourth-largest city, UH serves nearly 44,000 students in the most ethnically and culturally diverse region in the country.