Administration & Finance / News /
News Release
FOR IMMEDIATE RELEASE
Recruiting Team Takes Multi-faceted Approach to Attracting Top Talent to UH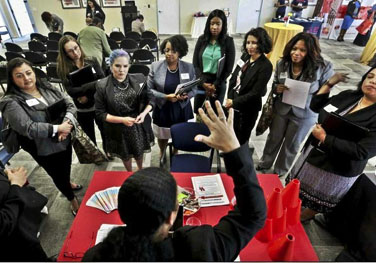 Houston, April 26, 2019 - Identifying and bringing in the best and brightest talent to the University of Houston is the number one goal for the recruiting team.
UH recruiters can be found capturing the attention of job seekers through speaking engagements and job fairs out in the community. These job fairs are hosted by trade schools, the City of Houston Veteran Program, Red, White and You, community centers and schools and a host of other locations. UH's participation each year for the Dress for Success has been extremely successful in connecting with veterans entering the job market.
On campus, recruiters can be found hosting specific job fair events like the UH Police Department Job Fair and speaking to groups, such as the Exchange Institute in the Division of Student Affairs and Enrollment Services on developing career strengths and other pertinent topics that provide insights into career growth opportunities. They also do mock interviews with Bauer College of Business graduating students.
The successful recruitment training program conducted by the recruitment team for the University Business Office staff launched a second round of training for hiring managers. This program will provide hiring managers with an indepth understanding of the recruitment process, and successful interviewing skills and tips for success when checking references. Classes are currently being scheduled for each division by their senior HR business partners.
---
About the University of Houston
The University of Houston is a Carnegie-designated Tier One public research university recognized by The Princeton Review as one of the nation's best colleges for undergraduate education. UH serves the globally competitive Houston and Gulf Coast Region by providing world-class faculty, experiential learning and strategic industry partnerships. Located in the nation's fourth-largest city, UH serves more than 46,300 students in the most ethnically and culturally diverse region in the country.