Administration & Finance / News /
News Release
FOR IMMEDIATE RELEASE
ProPel Program Training Class of Talented Leaders at UH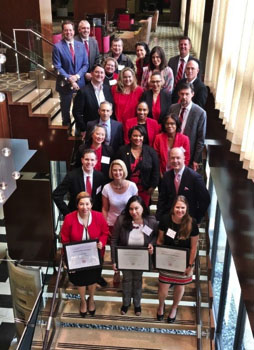 Houston, April 26, 2019 - Chancellor and President Renu Khator made a strategic decision to create a succession planning and management program to ensure that the University of Houston System has stellar talent in critical positions.
The first class of leaders at UH have completed year one of the program - participating in a strategic leadership program through HR's partnership with Bauer College of Business, building skills in core UH leadership competencies and the completion of 4 Capstone Projects to answer four strategic topics received by President Khator.
ProPel - Year 2 began with the second half of the strategic leadership program delivered by Bauer College of Business. Thanks go out to the excellent professors who delivered presentations on developing leader character, managing to leading, communication, constructive conversations and employee engagement.
In addition to this program, the ProPel mentoring program has been launched this year and is providing participants an opportunity to be mentored by UH senior leadership.
---
About the University of Houston
The University of Houston is a Carnegie-designated Tier One public research university recognized by The Princeton Review as one of the nation's best colleges for undergraduate education. UH serves the globally competitive Houston and Gulf Coast Region by providing world-class faculty, experiential learning and strategic industry partnerships. Located in the nation's fourth-largest city, UH serves more than 46,300 students in the most ethnically and culturally diverse region in the country.