Administration & Finance / News /
News Release
FOR IMMEDIATE RELEASE
New Staff Development Program will Launch This Summer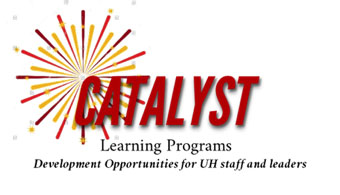 Houston, April 26, 2019 - Catalyst is a learning and development program that is designed to provide opportunities for staff to enhance their skills in their current roles and participate in development of skills for future opportunities within the University of Houston. The new program is slated to launch this summer.
Catalyst will feature innovative new programs focusing on building skills and competencies in the areas of effective communication, personal growth, developing high performing teams, leadership and many others. There are course offerings for staff employees within specific tracks: new employees, individual contributors, supervisors, management and leadership.
These courses will be delivered for the most part in a classroom environment and will be offered multiple times, based upon demand, during the calendar year. For more information, contact Ruth Wheat or Vickie Rawlston.
---
About the University of Houston
The University of Houston is a Carnegie-designated Tier One public research university recognized by The Princeton Review as one of the nation's best colleges for undergraduate education. UH serves the globally competitive Houston and Gulf Coast Region by providing world-class faculty, experiential learning and strategic industry partnerships. Located in the nation's fourth-largest city, UH serves more than 46,300 students in the most ethnically and culturally diverse region in the country.