Administration & Finance / News /
News Release
FOR IMMEDIATE RELEASE
Richard Zagrzecki
Communications Coordinator
832-842-4722
rzagrzec@central.uh.edu
Neil Hart Named Executive Director of Auxiliary Services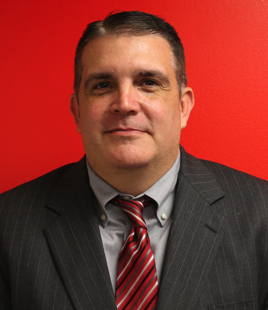 Houston, Feb. 15, 2017 — Neil Hart has several goals in mind as he gets started in his new role overseeing Auxiliary Services at the University of Houston, but they all have one main common denominator: improving the student experience.
Hart, who officially assumed the executive director position Feb. 15, takes over a department that includes a team of directors that oversees Dining Services, the UH Bookstore, Vending Services and various retail lease partners.
As part of his goals, he envisions aligning and positioning Auxiliary Services in such a way that it enhances overall student satisfaction. This includes meeting and exceeding customer expectations on a daily basis, an achievable objective he views as beneficial not only to students, but the entire UH community.
Providing quality products and services at a competitive price - another goal he's set - is key to strengthening the relationship with the campus community.
The job and the challenges that come with it are something the UH alumnus is looking forward to tackling.
"Our biggest challenges will be ensuring quality and consistency within our service line, enhancing positive perceptions of Auxiliary Services, and creating a culture of collaboration that ultimately fosters student success," he said. "I see these challenges as ones our department can not only reach, but also surpass."
Hart comes to UH after serving as the director of Auxiliary Enterprises at the University of Texas Medical Branch in Galveston. Prior to that, he spent 12 years with the University of Texas MD Anderson Cancer Center, the majority of time as director of Campus Services. In all, he has approximately 20 years of experience related to auxiliary services.
He has a bachelor's degree in journalism from the University of Houston and a master's degree in business administration from Our Lady of the Lake University in San Antonio. He is a self-professed sports enthusiast who likes to play in competitive basketball leagues and watch college football and basketball. He and his wife live in Pearland with their daughter.
---
About the University of Houston
The University of Houston is a Carnegie-designated Tier One public research university recognized by The Princeton Review as one of the nation's best colleges for undergraduate education. UH serves the globally competitive Houston and Gulf Coast Region by providing world-class faculty, experiential learning and strategic industry partnerships. Located in the nation's fourth-largest city, UH serves nearly 44,000 students in the most ethnically and culturally diverse region in the country.