Administration & Finance / News /
News Release
FOR IMMEDIATE RELEASE
Emily Fahner
UH Dining Services - Marketing Manager
832-985-2278
Fahner-Emily@aramark.com
Campus Dining Halls Stay Busy with Earth Week Activities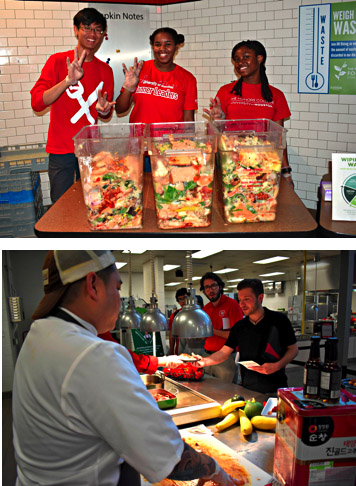 Houston, May 2, 2017 — University of Houston Dining Services hosted numerous Earth Week activities April 17-21, including a weigh the waste campaign and a special lunch menu prepared by a guest chef.
Each day during Earth Week, post-consumer food waste was collected in both on campus dining halls during from 11 a.m. to 2 p.m. Campus Kitchens volunteers and UH Dining staff educated guests on the negative impact of food waste and what can be done to reduce the waste.
"We were lucky enough to have Campus Kitchens volunteer help with this initiative," said Nick Mendez, resident district manager. "These students understand the importance of reducing waste and they were instrumental in educating our guests on why we all should monitor the amount of post-consumer food waste that is produced."
Danielle McFeron, UH Dining's registered dietitian, kicked off the week with a station takeover in the Fresh Food Company at Moody Towers and followed up the next day with a tabling event in Cougar Woods Dining Hall. Each demonstration focused on the benefits of a plant-based diet.
UH Dining also partnered with the Office of Sustainability to be onsite one day at Cougar Woods to educate guests on the campus community garden and sustainable best practices.
The week concluded with a sustainable meal prepared in Cougar Woods by Gary Ly, Underbelly chef de cuisine. Ly prepared a Gochujang flank steak with a Korean pasta salad. All ingredients were sourced locally through 44 Farms and Gundermann Farms.
"Underbelly is such a great Houston restaurant known for its sustainable practices," said Mendez. "We were delighted to have Chef Ly, and the students really enjoyed this special meal."
Over 1,200 pounds of post-consumer waste was collected. Giveaways throughout the week included event T-shirts, water bottles and reusable grocery bags.
For more information about dining services on the UH campus, visit the UH Dining website. Join UH Dining on Facebook, Twitter and Instagram to receive the latest dining information.
---
About the University of Houston
The University of Houston is a Carnegie-designated Tier One public research university recognized by The Princeton Review as one of the nation's best colleges for undergraduate education. UH serves the globally competitive Houston and Gulf Coast Region by providing world-class faculty, experiential learning and strategic industry partnerships. Located in the nation's fourth-largest city, UH serves nearly 44,000 students in the most ethnically and culturally diverse region in the country.