Administration & Finance / News /
News Release
FOR IMMEDIATE RELEASE
Abigail Nivens
UH Dining Services - Marketing Coordinator
832-843-7051
nivens-abigail@aramark.com
UH Dining Seeks Students to Join Sales Team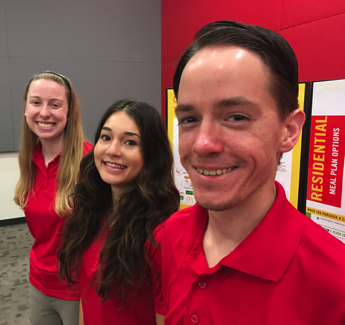 Houston, Feb. 17, 2017 — University of Houston Dining Services is looking for students with backgrounds in marketing, sales and communications to join its summer sales team.
To prepare for the summer sales period, UH Dining plans to hire 10 to 15 students for its peer sales force. The position offers flexible hours, free meals and the convenience of working on campus. UH Dining encourages students to apply for the position with hopes of gaining valuable experience in their field of study.
The peer sales team is highly energetic and driven. Students who excel in a fast paced, customer service-oriented environment are asked to apply.
For more information on how to apply for the position, visit Aramark's hiring website.
For more information about dining services on the UH campus, visit www.uh.edu/dining. Join UH Dining on Facebook, Twitter and Instagram to receive the latest dining information.
---
About the University of Houston
The University of Houston is a Carnegie-designated Tier One public research university recognized by The Princeton Review as one of the nation's best colleges for undergraduate education. UH serves the globally competitive Houston and Gulf Coast Region by providing world-class faculty, experiential learning and strategic industry partnerships. Located in the nation's fourth-largest city, UH serves nearly 44,000 students in the most ethnically and culturally diverse region in the country.