Administration & Finance / News /
News Release
FOR IMMEDIATE RELEASE
Richard Zagrzecki
Communications Coordinator
832-842-4722
rzagrzec@central.uh.edu
Cullen Performance Hall Launches Box Office Hours of Operation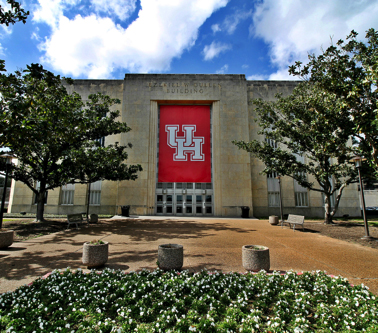 Houston, March 2, 2018 - Cullen Performance Hall's box office is now open to the public four days a week, allowing people to purchase tickets in person to shows and events at the historic venue in the heart of the University of Houston campus.
The box office is located on the left side of the lobby, directly inside the front doors. Hours of operation are:
Tuesday: 2-5 p.m.
Wednesday: 9:30 a.m.-12:30 p.m.
Thursday: 2-5 p.m.
Friday: 9:30 a.m.-12:30 p.m.
Saturday, Sunday and Monday: Closed
It is also is open on days of scheduled ticketed events, beginning four hours prior to show time.
Cash, credit cards and checks are accepted. The online ticketing fee is waived for purchases made at the box office. Tickets to shows that are not part of Cullen Performance Hall's ticketing website are not available at the box office.
For details about upcoming programs and shows at Cullen Performance Hall, follow it on Twitter, Facebook and Instagram.
---
About Cullen Performance Hall
Nestled among the tree-lined sidewalks in the heart of the University of Houston campus is the historic Cullen Performance Hall, which has been one of the premier entertainment venues in the city of Houston since it opened in 1950. Its cozy, relaxed atmosphere provides the ideal setting for music concerts, public lectures, dance performances and theatrical productions.