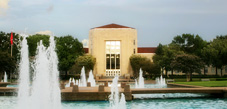 University Drive lane closure scheduled
On Monday, Sept. 17, 2012, the University Center Transformation project will begin underground utility work under University Drive at the first median cross-over before the Visitor Information Booth. One of the two eastbound lanes of University Drive exiting campus will be closed for the duration of this work. There will be no interruption to the westbound lanes entering campus. Construction is scheduled to be completed by Sept. 28. Please refer to map for affected areas.

Please contact Mei Chang, Senior Project Manager, if you have any questions related to this project at mmchang@Central.uh.edu or by phone at 713-743-5729. For more construction project information, please visit the Facilities Planning and Construction website or visit our Facebook page.