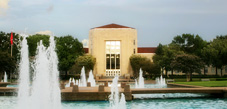 Stadium parking garage now complete
The Stadium Parking Garage project is now complete. It is located on Holman Street at Cullen Boulevard and offers 24-hour parking for 2,300 on four levels that can be used by visitors, students, and staff. It contains a Barnes & Noble Fan Shop, Cougar Xpress Mini Market, Taco Cabana, as well as offices for UH Parking and Transportation and UH Parking Customer Service. Cougar Walk is located on the south side of the garage and offers seating, lighting and electrical outlets in each light pole for student use.





Please contact Morris Bennett, Senior Project Manager, if you have any questions related to this project at mlbenne2@Central.UH.EDU or by phone at 713-743-2535. For more construction project information, please visit the Facilities Planning and Construction website or visit our Facebook page.